Robert Wexler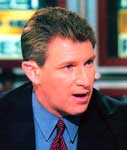 (1961- )
---
Robert Wexler, 39 is a Democratic Congressman from South Florida. In 1999, during only his second term in Congress, Wexler was named as one of the 50 Most Effective Legislators in Congress by the influential magazine "Congressional Quarterly."
Representative Wexler, who previously served in the Florida Senate for six years, represents Florida's 19th Congressional district, which comprises portions of Broward and Palm Beach Counties. He serves on both the Judiciary and International Relations Committees. His subcommittee assignments include Asia and the Pacific, Western Hemisphere, and Courts and Intellectual Property.
In only his third year in Congress, Robert Wexler has appeared on many national television programs including NBC's Meet the Press, CNN's Larry King Live and Crossfire, and ABC's Nightline among others. He has discussed a range of domestic and international issues including: prescription drugs, gun control, Social Security, Kosovo, and the Middle East. Wexler was also an outspoken critic of impeachment during the House Judiciary Committee's impeachment hearings in 1998.
Congressman Wexler is an active member of the International Relations Committee. He traveled with Secretary of State Madeleine Albright on a Middle East peace mission, and was the only member of the House of Representatives present during the signing of the historic Wye River Peace Agreement. Congressman Wexler has traveled to Europe, the Middle East, North Africa, and the Gulf region to meet with foreign leaders and to discuss critical security and trade issues.
Congressman Wexler's legislative initiatives cover a broad range of issues and include a recent resolution condemning a national racist political organization. He has also sponsored gun control legislation which limits hand gun purchases to one per month, and Social Security reform legislation which redresses the inequity in benefits received by "Notch Babies," those Americans born between 1917 and 1926.
Congressman Wexler is a member of the New Democratic Coalition and was pronounced a "deficit hawk" by the bipartisan watchdog Concord Coalition for his fiscally responsible record. In addition, he received the highest environmental rating awarded to any member of the Florida Delegation by the League of Conservation Voters for his strong advocacy of the environment.
Born in Queens, New York, Congressman Wexler moved to South Florida with his family at age 10. He earned his B.A. in Political Science from the University of Florida and his Juris Doctorate from George Washington University Law School. Congressman Wexler and his wife, Laurie, have three children, Rachel, 10, Zachary, 7, and Hannah, 3.
---
Source: Congressman Robert Wexler. U.S. House of Representatives.