Tzvi Feldman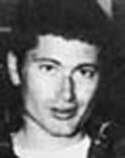 (1959 - )
---
View Full List of IDF Soldiers "Missing in Action" - CLICK HERE
---
On June 11, 1982, in a battle with Palestinian and Syrian forces near the Lebanese village of Sultan Yaqub, five Israeli soldiers went missing, and while two have since been returned to Israel, three others - Zachary Baumel, Yehuda Katz and Zvi Feldman- are still considered missing in action. Since they went missing, Palestinian and Syrian officials have been unhelpful in providing Israel with any information about its missing soldiers.
Feldman was born on July 18, 1959 in Tel Aviv and his father Avraham immigrated to Israel from Europe after his entire family was murdered in the Holocaust. Tzvi's name is derived from Avraham's father.
Feldman worked as a nature guide for high school groups after his regular army service and had been accepted to university the fall before the Lebanon War broke out. He and his girlfriend were considering marriage.
---
Source: The International Coalition for Missing Israeli Soldiers; Israel Ministry of Foreign Affairs