Isidor Rayner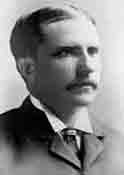 (1850-1912)
---
Isidor Rayner was born in Baltimore, Maryland on April 11, 1850. He attended private schools, the University of Maryland at Baltimore, and the University of Virginia at Charlottesville. After studying law, he was admitted to the Maryland bar in 1871. He served in the State house of delegates (1878-1884) and State senate (1885-1886). Rayner was elected as a Democrat to the Fiftieth Congress (March 4, 1887-March 3, 1889) and was defeated for reelection in 1888. He won his seat back in the Fifty-second and Fifty-third Congresses (March 4, 1891-March 3, 1895). He declined to be a candidate for renomination in 1894. After leaving the House, Rayner served as attorney general of Maryland (1899-1903) before being elected as a Democrat in 1905 to the United States Senate. He was reelected in 1911 and served from March 4, 1905, until his death in Washington, D.C., November 25, 1912.
Bibliography
Dictionary of American Biography; Rayner, Isidor. Essays of Isidor Rayner. Edited by Jesse Frederick Essay and compiled by William B. Rayner. Baltimore: John Murphy Co., 1914; U.S. Congress. Memorial Addresses. 62nd Cong., 3rd sess., 1912-1913. Washington, D.C.: Government Printing Office, 1914.
---
Source: Biographical Directory of the United States Congress. Photo: Library of Congress.