Nayef bin Abdul-Aziz Al Saud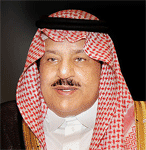 (1933 - 2012)
---
Nayef bin Abdul-Aziz Al Saud was a member of the Saudi royal family and the Crown Prince of Saudi Arabia from 2011 until his death in 2012.
Nayef (born 1933, died June 16, 2012) was born in Ta'if, Saudi Arabia to King Abdul-Aziz (Ibn Saud), making him one of the Sudairi Seven, a powerful alliance of the seven full-brothers within the Ibn Saud house. Receiving early education at the "Princes' School," Nayef later would study diplomacy and security affairs.
In 1952, Prince Nayef served as Vice Governor of Riyadh Province and the following year he was appointed as the Governor of Riyadh Province, though he stayed in that post for only one year. In 1970, King Faisal appointed him to both Deputy Minister of the Interior and Minister of State for Internal Affairs. Following the assassination of King Faisal in 1975, Nayef was appointed as the Minister of the Interior.
Though he was at times criticized by the US government for not doing undertaking sufficient action against Islamic extremists in Saudi Arabia, Nayef gained power within the government for leading a fierce crackdown of Al-Qaeda from 2003 to 2006. Before admitting that 15 of the 19 9/11 hijackers were Saudi nationals, Nayef has actually told a Kuwaiti newspaper that Jews were behind the heinous attacks because they knew they would benefit from subsequent criticism of Islam and Arabs.
In March 2009, Nayef was appointed as Second Deputy Prime Minister when both King Abdullah and Crown Prince Sultan were dealing with issues abroad, causing a slight rift within the royal family. On October 27, 2011, five days after Prince Sultan died, Nayef was appointed Crown Prince of Saudi Arabia.
Nayef had a reputation for being a hard-liner and a conservative. He was believed to be closer than many of his brothers to the powerful Wahhabi religious establishment that gives legitimacy to the royal family, and he at times worked to give a freer hand to the religious police who enforce strict social rules.
On June 16, 2012, Prince Nayef died of leukemia-related illness while outside the country. He is survived by 10 sons and multiple wives.
---
Source: Fox News; Wikipedia