Pope Francis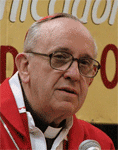 (1936 - )
---
Pope Francis, born Jorge Mario Bergoglio, is the 266th and current Pope of the Roman Catholic Church. He is the first pontiff from Latin America. He succeeded Pope Benedict XVI who resigned from the position in February 2013.
Bergoglio was born in Buenos Aires, Argentina and was studying to be a chemical technician when he decided at the age of 21 to become a priest. He entered the society of Jesus in 1958 and after attaining degeres in theological studies and psychology he served as provincial for Argentina from 1973 to 1979. In 1992, Bergoglio was named Auxiliary Bishop of Buenos Aires.
Bergoglio visited Israel in 1973, just before the Yom Kippur War. According to the Vatican he stayed for a bout a week and visited holy sites in Jerusalem, Ein Kerem and Bethlehem.
Bergolgio is said to be on good terms with the Jewish community of Argentina. Local and American Jews thanked him for his response to the 1994 bombing of the Asociación Mutual Israelita Argentina (AMIA) Jewish community center in Buenos Aires, in which 87 people were killed and more than 100 wounded. In 2005, he was the first public figure to sign a a joint statement entitled "85 victims, 85 signatories" against terrorism and demanding belated justice for the bombings. Jose Adaszko of the Israel Mutual Association of Argentina and Omar Helal Massud of the Islamic Center also signed. Bergoglio also published a book together with Rabbi Abraham Skorka, president of the Buenos Aires Rabbinical Seminary, that examines a range of issues from Jewish and Catholic perspectives.
On March 13, 2013, Bergoglio was elected as the 266th Pope - the first from the Americas and the first from outside Europe since Pope Gregory III was elected in the year 734. He is the first Pope to take the name Francis, saying that he chose the name to honor St. Francis of Assisi, one who helped the poor. Bergoglio was also a runner up for the papacy in the 2005 enclave that ultimately chose Cardinal Joseph Ratzinger instead.
Upon his consecration, Francis sent a message to Rome's chief rabbi, Riccardo Di Segni, inviting him to mass in the Vatican on March 19. "I sincerely hope to be able to contribute to the progress that relations between Jews and Catholics have enjoyed since the Second Vatican Council," he said.
Claudio Epelman, director of the Latin American Jewish Congress, said that "I think it is the first time a pope has been elected that the Jewish community knows previously, and has a long history [with]," and that he is "very, very optismistic" about the future of relations between Jews and Catholics. "If you had to choose a pope by Jewish interest, you would have had to choose Bergoglio," Epelman said. Julio Schlosser, the president of a Buenos Aires synagogue and the other Argentine delegate in Greece, said that Francis is "my friend and a friend of the rabbis" who is "very close to the Jewish community."
On March 28th, Francis promised friendship, respect and continued dialogue with other religious leaders. He described the connection between Catholics and Jews as "a spiritual bond" that is "very special." "It's a good start," Rabbi Di Segni said in a follow up interview. "Hopefully, we'll not have any accidents." When asked about disagreements, the rabbi said that "What is important is the good will to solve them."