Carl Levin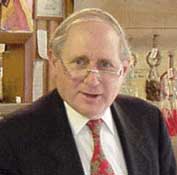 (1934 - )
---
Levin's reputation as a lawmaker who puts principle before politics has earned him the respect and affection of not only Michigan's voters but also his colleagues in both parties. The Oakland Press got it right when it described Carl Levin as a Senator "who is far more concerned with making the government effective and efficient than with partisan bickering." The Detroit Free Press has called Carl Levin "a sterling example of why longevity in office sometimes is good for the state and the country." And the Kalamazoo Gazette summed it up with these words "Carl Levin simply is one of the nation's most conscientious, thoughtful and principled public servants."
Carl Levin was first elected to the United States Senate in 1978, after serving as President of the Detroit City Council, and is now serving his fourth term. He is the senior Democrat on the Senate Armed Services Committee, where he has earned a reputation as a strong advocate for the men and women of our Armed Forces and as an effective waste fighter. Levin is a member of the Small Business Committee. He also serves as the ranking member of the Government Affairs Permanent Subcommittee on Investigations, as well as of the Senate Select Committee on Intelligence.
LEADERSHIP
Levin is perhaps best known for his efforts to make our government both more effective and more ethical. He authored the Competition in Contracting Act which has led to significant reduction in federal procurement costs. His Whistleblower Protection Act protects federal employees who expose wasteful practices. Levin also authored the Taxpayers Bill of Rights, which protects individuals and small businesses from IRS harassment. He led the way for reform of the Congress' gift rules and the requirement of more disclosure by lobbyists. Working with Senator Fred Thompson, he has developed a major regulatory reform bill which would address the problem of excessive regulation of business while maintaining essential environmental and consumer protections. The President has indicated that he would sign this major bipartisan legislation if it is presented to him this year.
Levin has been a driving force in Washington for government partnerships with business to prepare us for the next century. His leadership helped establish the National Automotive Center in Warren, and he has supplied tremendous support for the Center for Advanced Technologies at Focus: Hope, two concrete examples of partnerships which promote advanced technology, manufacturing processes and training opportunities in Michigan and for Michigan citizens. To better prepare Michigan's children for the demands of the modern work place, he has taken a leadership role in promoting the introduction of technology in our schools and quality training for the teachers who use these exciting new tools.
He has worked to strengthen Michigan's industrial economy and to protect the environmental treasures of the Great Lakes state. He has been one of the most insistent voices in Washington calling for tough action to open the world's markets to American goods. As an outspoken leader in the fight for fair trade laws, he has consistently shown an understanding that a thriving business climate, jobs in Michigan, and free but fair trade laws are all interrelated. He has fought for strong enforcement of the US Japan Auto and Auto Parts accord and won the creation of a strong enforcement office in the Commerce Department. He currently serves as the co-chair of the Senate Auto Caucus and as co-chair of the Senate Auto Parts Task Force. Recognizing the need to protect the Great Lakes while preserving our role as a center of manufacturing, Carl Levin led the effort to create the Great Lakes Initiative which is forcing other states in our region to raise their water quality standards to Michigan's high level. Senator Levin is also the Senate chair of the Great Lakes Task Force.
Carl Levin has always been a strong advocate for the interests of small businesses in Michigan. A senior member of the Senate Small Business Committee, Levin understands that small business is the heart of America's job creation. He worked to increase the amount of SBA government guaranteed loans that are made to small businesses, providing credit to those businesses that otherwise would not qualify for conventional bank loans.
SERVICE
Carl Levin was born in 1934, in Detroit, where he graduated from Central High School. In 1956, he graduated with honors from Swarthmore College, and from Harvard University Law School in 1959. He practiced and taught law in Michigan until 1964, when he was appointed an Assistant Attorney General of Michigan and the first general counsel for the Michigan Civil Rights Commission. He won election to the Detroit City Council in 1969, becoming President in 1973. In 1978, he won an upset victory over the number two Republican in the U.S. Senate. He was re-elected to a second term in 1984 and to a third term in 1990, and his fourth term in November of 1996.
FAMILY
Carl Levin married Barbara Halpern in 1961. They have three daughters, Kate, Laura and Erica, and two granddaughters, Noa, born in 1999, and Bess, born in 2000. His brother Sander has served in the U.S. House of Representatives since 1983.
---
Source: Senator Carl Levin. U.S. Senate.