Sander Levin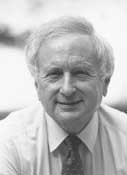 (1931- )
---
Serving on the House Ways and Means Committee
"(H)e has won considerable respect as a judicious legislator determined to find the right answers even if they are not the simple answers." Politics in America, 1996 Edition.
Sandy Levin currently serves on the House Ways and Means Committee, which has jurisdiction over all tax, trade and economic growth policies and entitlement spending, including Social Security, Medicare, welfare, and unemployment compensation. He is the Ranking Member of the Trade Subcommittee. He also serves on the Social Security Subcommittee.
He is known legislatively for his work on trade issues — seeking ways to force open foreign markets to American made products. He has persistently challenged unfair trade practices that threaten U.S. manufacturers and U.S. jobs.
Public Service
Sandy was elected to the Michigan State Senate in 1964 where he served on the Education Committee and the Labor Committee. During the 1969-70 session, he was Senate Minority Leader.
In 1970 and 1974, Sandy was the Democratic candidate for Governor of Michigan. After a four year assignment as Assistant Administrator in the Agency for International Development, he was elected to Congress in 1982.
Representing the 12th Congressional District of Michigan
Sandy represents Michigan's 12th Congressional District, with its population divided between Oakland and Macomb counties in suburban Detroit.
At home he is working to help communities create coalitions to combat drug and alcohol abuse among teenagers. His work on the 1994 Crime bill has resulted in additional community police officers and a new multi-jurisdictional unit, The Crime Suppression Task Force, to combat crimes which cross community lines. Sandy is also working to strengthen education and to link local industries to community colleges so students get the high-tech training they need for good-paying jobs.
Sandy holds neighborhood meetings and office hours to hear from constituents and is involved in numerous local projects, including the re-development of the Detroit Arsenal Tank Plant in Warren, Michigan.
Background
Born in Detroit, Sandy graduated from Central High School. He earned his B.A. at the University of Chicago, his M.A. in international relations from Columbia University and a law degree from Harvard University. He and his wife, Vicki have four children and seven grandchildren.
---
Source: Congressman Sander Levin