Agnes Keleti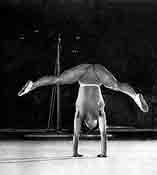 (1921- )
---
(Klein). Hungary. Born: 6/9/l921, Budapest.
Agnes Keleti won 10 Olympic medals over three Olympiads, including five gold medals. She ranks third all-time among women athletes for most Olympic medals, and fourth all-time as a winner of Olympic gold medals.
Agnes was an Olympic medal hopeful for the 1940 Games, but Nazi aggression caused them to be canceled. The first Olympiad following World War II took place in 1948, but an injury limited her to a silver medal in Combined Team competition.
At age 31, Agnes finally competed at the Helsinki Games in l952, where she won a gold in the Floor Exercises, a silver in the Combined Team competition, and a bronze in both Hand Apparatus-Team and Uneven Parallel Bars. She also finished fourth on the Balance Beam and sixth in the Individual All-Around.
At the l956 Olympics, a 35-year old Keleti won gold medals in the Free-Standing Exercise, Balance Beam, Parallel Bars, and Combined Exercise-Team (portable apparatus). She also won a silver medal in the Combined Exercise-Team.
In l954, Keleti captured the World Championship in Uneven Bars, and her Hungarian team won the World title in Team Exercises (portable apparatus). From l947-1956, she won the All-Around Hungarian Championships 10 times.
Saved by the hand of Swedish diplomat Raoul Wallenberg during World War II, Keleti's mother and sister went into hiding, but her father was sent to Auschwitz, where he died.
Keleti, ranked third all-time in Olympic medals won (women), is the most successful Jewish female athlete in Olympic history.
---
Source: International Jewish Sports Hall of Fame. Photo courtesy of the Herald and Weekly Times Photographic Collection.from The 1956 Melbourne Olympic Web site at the State Library of Victoria