Barney Frank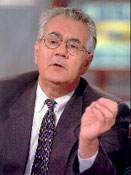 (1940- )
---
Barney Frank has represented the Fourth Congressional District of Massachusetts since he was elected to the U.S. House of Representatives in 1980.
Congressman Frank graduated in 1962 from Harvard College. Subsequent to graduation he taught undergraduates at Harvard while studying for a Ph.D. In 1968, before completing his Ph.D. degree, Congressman Frank left graduate school to become the Chief Assistant to Mayor Kevin White of Boston, a position he held for three years.
In 1971 Congressman Frank spent six months as a fellow at the Institute of Politics at the John F. Kennedy School. He then served for one year as Administrative Assistant to U.S. Congressman Michael J. Harrington.
In 1972 Congressman Frank was elected to the Massachusetts Legislature, where he served for eight years. During that time, he entered Harvard Law School in September, 1974 and graduated in 1977. In 1979 he became a member of the Massachusetts Bar.
While in state and local government, Congressman Frank taught part-time at the University of Massachusetts-Boston, the John F. Kennedy School at Harvard and Boston University.
He has published numerous articles on politics and public affairs, and in 1992 he published Speaking Frankly, an essay on the role the Democratic Party should play in the 1990s.
---
Source: Congressman Barney Frank