Bob Filner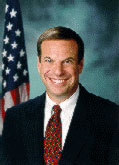 (1942- )
---
Congressman Filner was born in Pittsburgh, Pennsylvania on September 4, 1942 and raised in New York City. He is married to Jane Merrill and has two children-- daughter Erin, a high school teacher in New York, and son Adam, a waiter in San Diego.
Filner earned a Bachelor's Degree in Chemistry from Cornell University (1963), a Master's Degree in History from the University of Delaware (1969) and a Doctorate in the History of Science from Cornell University (1973). He is one of only a handful of Members of Congress with a scientific degree and one of only 19 Members in the House of Representatives holding a Ph.D.
While in college, Filner became active in the struggle for civil rights. In 1961, he joined the first Freedom Rides and was arrested and imprisoned for several months in Mississippi.
A History Professor at San Diego State University for more than 20 years, Filner was active in several community issues, including housing, job development, education, environmental protection and civil rights.
In 1975-76, he was selected as a Congressional fellow by the American Political Science Association and served as a Legislative Assistant to Senator Hubert Humphrey and Congressman Don Fraser.
Filner's first elected office was as a San Diego School Board Member (1979-1983). His opposition to the closing of neighborhood schools was a call to action for local residents that enabled Filner to run for the School Board and beat a long-time incumbent. Filner's "back to basics" approach made school administrators more accountable, slashed millions of dollars in bureaucratic waste, improved test scores, and made homework mandatory.
Although Filner was the only Democrat on the Board, his colleagues elected him Board President in 1982. During his tenure, he conducted a national search for a superintendent that resulted in the hiring of Tom Payzant, who went on to serve as U.S. Assistant Secretary of Education for Primary and Secondary Education.
Filner served on the San Diego City Council from 1987-1992. He won re-election in 1991 with more than 70 percent of the vote. That same year, he served as Deputy Mayor of the City of San Diego.
Filner created the city's first Economic Conversion Committee and wrote the city's Economic Conversion Plan. He also found creative ways to fight neighborhood crime--including the introduction of Police Walking Patrols and a Citizen Graffiti Patrol.
Filner was elected to the United States House of Representatives by a two-to-one margin in 1992. He was immediately named to the House Committee on Transportation and Infrastructure and the Committee on Veterans' Affairs. He was re-elected in 1994 by a 22-point margin and in 1996 by a 30-point margin. In 1998, Filner was unopposed in his re-election bid.
During his first term in the House of Representatives (1993-94), Filner sponsored a successful bill that amended the Clean Water Act to allow San Diego to save billions of dollars while meeting environmental standards. With this accomplishment, he became one of only a handful of freshmen to have legislation passed. He also successfully inserted language in the Transportation Appropriations bill that terminated the study of an unwanted international airport in his district.
Filner was also successful in meeting several of his objectives for the 50th District, including passing legislation that restored funds to continue the construction of an international sewage treatment plant to treat raw sewage flowing into the United States from Mexico, and securing funding for State Route 905.
During his second term (1995-96), Filner played a major role in thwarting the new Congressional majority's attempts to slash federal funding for Medicare, crime control, education, the environment and veterans. He introduced legislation that would allocate savings from defense downsizing to job retraining and economic conversion in impacted communities. He also led the fight to close a $2 billion corporate tax loophole that has allowed mutual life insurance companies to avoid paying their fair share of taxes.
As a member of the House Committee on Veterans' Affairs, Filner led the successful opposition to cuts in veterans programs. In addition, he was named Democratic leader of the Veterans' Affairs Subcommittee on Benefits.
During his third term (1997-98), Filner continued the fight for his constituents. In addition to garnering increased support for the above legislative proposals, Filner reintroduced bills encouraging private sector funding for the San Diego & Arizona Eastern Railroad (the "Jobs Train"). With his Identity Theft legislation, Filner led the charge to change the IRS practice of printing taxpayers Social Security Numbers the mailing labels of tax booklets. He also fought to prohibit insurance companies from dropping their policies with churches and other houses of worship due to fear of arson, and availing more mobile home owners of federal housing assistance.
Through his committee work, Filner introduced legislation seeking to restore promised benefits to Filipino Veterans of World War II, which were rescinded by the 1946 Congress.
Now in his fourth term, Filner has sponsored legislation of crucial importance the people of the 50th District, including bills to create a $500 million Border Infrastructure Fund to help pay for improvements in roads, highways, and rail lines that are crucial for increased trade with Mexico; to repeal the Social Security offset to benefits paid under the Military Survivors Benefits Plan; to ensure that San Diego County's water supply and beaches are safe and clean, and to allow military retirees and veterans to use their Medicare benefits at military and VA hospitals.
---
Source: Congressman Bob Filner