Peter Deutsch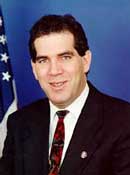 (1957- )
---
With more than 17 years in public service, Peter Deutsch represents the people of Florida's 20th Congressional District in the U.S. House of Representatives. The 20th Congressional District encompasses western Broward County, parts of Miami-Dade County, and all of Monroe County.
Born April 1, 1957, in the Bronx, New York, Deutsch first expressed interest in public service as a college intern for the U.S. Senate Judiciary Committee. Deutsch graduated from Swarthmore College in 1979 and went on to graduate from Yale University Law School in 1982. After graduating from law school, Deutsch moved to Florida and established a nonprofit health care advocacy organization — the Medicare Information Program of Broward County.
Deutsch was elected to the Florida House of Representatives at the age of 25. He served on the Veterans Affairs Committee, the Health Care Committee, the Criminal Justice Committee, and later, went on to serve as the Chairman of the Insurance Committee. While serving in the Florida House, Deutsch established a reputation as a tenacious advocate for his constituents and an independent voice in the Democratic caucus — strong traditions he continues today.
The people of Florida's 20th Congressional District elected Deutsch to Congress in 1992 at the age of 35. Congressman Deutsch has built a solid record on balancing the budget, improving health care, increasing educational opportunities, fighting crime, and protecting South Florida's environment. Deutsch has also played a key role in promoting peace in the Middle East, advancing U.S. trade policy, and strengthening U.S. policy toward Cuba.
Congressman Deutsch serves on the House Committee on Commerce, where he is a member of the subcommittees on Finance and Hazardous Materials, Energy and Power, and Health and Environment. The Committee on Commerce has broad jurisdiction over Medicare, Medicaid, environmental laws, energy policy, securities and telecommunications regulation. Deutsch is also a member of numerous caucuses, including the Older Americans Caucus, Congressional Law Enforcement Caucus, Coastal Caucus, Democratic Environmental Task Force, and the New Democrat Coalition.
Deutsch, 42, lives in Fort Lauderdale, Florida, with his wife, Lori, and their two children, Jonathan and Danielle.
---
Source: Congressman Peter Deutsch