Benjamin Cardin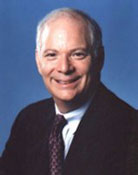 (1943- )
---
Benjamin L. Cardin was elected to the Senate in November 2006 and will begin serving in 2007. Cardin represented Maryland's Third Congressional District in the House of Representatives from 1987 through 2006. As a member of the House, Cardin served as a member of the Ways and Means Committee, Ranking Member of the Human Resources Subcommittee and a member of the Social Security Subcommittee. He was also a Commissioner of the Commission on Security and Cooperation in Europe (the Helsinki Commission).
As a member of the House, Congressman Cardin was a leader in shaping health care policy. He authored legislation to provide a Medicare prescription drug benefit for chronic illnesses; fund graduate medical education; and guarantee coverage for emergency services. As the leading Democrat on the Human Resources Subcommittee, Mr. Cardin fought to increase education and support services for foster care children between ages 18 and 21. He authored bills to expand child support, hold fathers more accountable, improve the welfare-to-work program and increase the child care tax credit. He also was instrumental in crafting the first major reform of the IRS since 1952, and in changing pension laws to make it easier for more Americans to contribute to private pension plans.
In 1998, Senator Cardin was appointed Chairman of the Special Study Commission on Maryland Public Ethics Law by the MD General Assembly. In 1997, he co-chaired the Bipartisan Ethics Task Force in an effort to reform ethics procedures in the House of Representatives. He also held leadership positions on the Organization, Study and Review Committee and the Steering Committee of the Democratic Caucus and serves as Assistant Democratic Whip.
As a Maryland legislator, Mr. Cardin served in the Maryland House of Delegates from 1967-1986. He was Speaker from 1979-1986 and prior to that served as chairman of the Ways & Means Committee from 1974-1979. As Speaker, he was credited with reforming Maryland's property tax system, the school financing formula and the ethical standards for elected officials.
A 1967 graduate of the University of Maryland School of Law (first in his class), he earned his B.A. degree in 1964 from University of Pittsburgh (cum laude). He also holds honorary degrees from the University of Baltimore School of Law (1990); University of Maryland at Baltimore (1993); Baltimore Hebrew University (1994); and Goucher College (1996). From 1988-1995, he chaired the Maryland Legal Services Corp. In 1999, he was appointed to a three-year term on the Goucher College Board of Trustees.
Senator Cardin's numerous awards include:
Congressional Advocate of the Year Award, Child Welfare League of America, 2000;

The American Medical Association's Dr. Nathan Davis Award for Public Service, 1999;

The Small Business Council of America's Congressional Award, 1999 & 1993; and

The Concord Coalition's "Deficit Hawk" Honor Roll, 1999 & 1998.
Senator Cardin is married to Myrna Edelman Cardin.
---
Source: Congressman Benjamin Cardin. U.S. House of Representatives