Howard Berman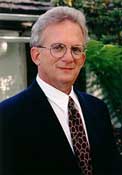 (1941- )
---
California - 26th District
Born: April 15, 1941 Los Angeles, California
Education: B.A. 1962, UCLA
LL.B. 1965, UCLA
Occupation: Lawyer
Family: Congressman Berman and his wife, Janis Gail Berman,
have two daughters, Brinley and Lindsey.
Committee Assignments and Leadership Positions:
Committee on International Relations
Committee on the Judiciary
Subcommittee on Courts and Intellectual Property, Ranking Minority Member

Subcommittee on Immigration and Claims
Committee on Standards of Official Conduct, Ranking Minority Member
Minority At-Large Whip
Member of the Board of Visitors, Security Centers, Department of Defense
---
Legislative Highlights
Economy, Jobs, Economic Conversion
Authored grant program to create public-private consortia to manufacture electric vehicles and advanced transportation systems.

Assembled members of CALSTART, a consortium located in a former defense plant in Burbank, CA, which will manufacture electric car parts, build infrastructure for electric vehicles and assemble electric buses.
Arms Control, Antiterrorism, Foreign Affairs:
Led fight to reduce international arms sales and the proliferation of dangerous missile and nuclear weapons technology.

Authored law "reinventing" the State Department, USIA and AID by eliminating duplication, consolidating departments and cutting budgets.

Chief whip for many years on House foreign aid bills; leader in support of strong U.S./Israel relationship.
Fighting Government Waste, Reforming Health Insurance
Authored False Claims Act Amendments which have already recovered over half a billion dollars for taxpayers from whistleblower suits.

Wrote legislation featured on "60 Minutes," to restore remedies for Americans with employer-provided health benefits whose insurance companies unfairly deny their claims.
---
Upon his graduation from law school, Howard Berman began his career in public service with a year's work as a VISTA volunteer. From 1967 until 1973, he practiced law in Los Angeles, specializing in labor relations. In 1973, he was elected to the California Assembly, where he served until 1982, when he was elected to Congress.
In his first term in the state legislature, then-Assemblyman Berman was named Assembly Majority leader, the youngest person ever to serve in that leadership capacity. He also served as Chair of the Assembly Democratic Caucus and the Policy Research Management Committee of the Assembly.
"There are few House members who have made such an imprint on legislation in so many areas as Howard Berman," says The Almanac of American Politics. Berman is particularly well-known for his ability to form bipartisan coalitions. Together with Republican Henry Hyde, Berman wrote a law authorizing embargoes on nations that condone terrorism. With Republican Senator Chuck Grassley, he wrote amendments to the False Claims Act.
The Almanac goes on to call Berman "one of the most aggressive and creative members of the House and one of the most clear-sighted operators in American politics."
Berman is a senior member of the International Relations Committee , the Judiciary Committee, and is Ranking Minority Member of the Ethics Committee. He has gained increasing influence on such issues as foreign aid, arms control, antiterrorism, human rights, technology policy, trade legislation, copyright legislation, and immigration reform.
As Ranking Minority Member of the Subcommittee ob Courts and Intellectual Property, Berman oversees copyright law, an area of great importance in the entertainment industry, and the protection of trademarks and patents, and law in the areas of biotechnology, pharmaceuticals, telecommunication and consumer electronics. Also within the jurisdiction of the Subcommittee are matters relating to the federal courts.
Berman has served as a member of the North Atlantic Assembly and the Mexico Parliamentary Group.
---
Source: Congressman Howard L. Berman