Shelley Berkley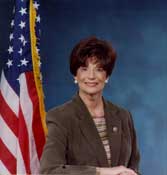 (1951- )
---
A Lifetime of Commitment to Nevada
Congresswoman Shelley Berkley was elected to the U.S. House of Representatives in November, 1998. She represents constituents living in the urban hub of the metropolitan Las Vegas area. Nevada's First Congressional District includes residents living in the cities of Las Vegas, Henderson, and North Las Vegas, as well as unincorporated areas in Clark County. The District annually records the largest population increase in the nation.
The Congresswoman has lived in Las Vegas for over 36 years. She has a deep sense of commitment to give back to the community that opened the doors of opportunity for her. She also has never forgotten that her family headed west seeking a better life, and found it in Las Vegas. Shelley completed junior high and high school in Las Vegas, then went on to become the first member of her family to attend college when she enrolled in UNLV. Elected Student Body President, 1971-1972, she graduated with honors and a B.A. in Political Science from UNLV in 1972. After earning her law degree at the University of San Diego School of Law in 1976, Shelley returned to Las Vegas to begin her career.
Since being sworn in as a Member of Congress on January 6, 1999, Congresswoman Berkley has successfully sought appointments that enable her to meet the needs of Southern Nevada.
House Committee Assignments
Committee on Transportation and Infrastructure –
Subcommittees: Ground Transportation
Oversight, Investigations and Emergency Management
Committee on Veterans Affairs –
Subcommittee: Benefits
Committee on Small Business
Democratic Caucus Assignments
Task Force on Education
Task Force on Health Care
Presidential Appointment
President Clinton chose Congresswoman Berkley to serve on the President's Conference on Social Security. She is one of just three freshmen selected to this bipartisan body.
Previous Elected Offices
Shelley is a former Vice Chair of the Nevada University and Community College System Board of Regents. Appointed to the Board in 1990 by the Governor, she was then twice elected as a Regent by Las Vegas-area voters. She completed her second term on the Board in 1998. Throughout her tenure, Shelley worked to keep higher education in Nevada affordable and accessible to all qualified students.
Elected to the Nevada State Assembly in 1982 and serving through 1984, Shelley championed consumer protection for car buyers and mobile home owners, fought for tougher drunk driving laws, and founded the Senior Law Project.
Civic Involvement
Shelley Berkley has devoted her energies to charitable and civic efforts ever since she was a teenager. Her work and ideas have contributed to many of Southern Nevada's successes. A representative sampling of her record of service includes:
Past President, Las Vegas Public Broadcasting System affiliate, KLVX Channel 10.

Former Board Member and Secretary, UNLV Alumni Association.

Nevada Advisory Committee Member, U.S. Civil Rights Commission.

Director Emeritus, National Conference of Christians and Jews.

Advisory Board Member, Clark County School District "Partners in Progress" Committee.

Founder and President, Southern Nevada Association of Women Attorneys.
Coordinator, Clark County Bar Association Pro Bono Project.
Accomplishment in Industry
Shelley Berkley has held key positions in the private sector during a career that spans nearly a quarter of a century:
Former Vice President of Government and Legal Affairs, Sands Hotel.

Former Chair, Board of the Nevada Hotel and Motel Association.

Past member, Board of Trustees of Sunrise-Columbia Hospital (an unpaid position).

Former In-House counsel for Southwest Gas Corp.

Former Deputy Director, Nevada State Commerce Department.

Member, County, State and National Bar Association.

Former National Director of the American Hotel-Motel Association.

Served as a Delegate to the White House Conference on Tourism.
Community Recognition
Shelley Berkley has been recognized for her community service and commitment. Of the many awards she has received, some of the most notable are:
Las Vegas Chamber of Commerce "Woman of Achievement".

Las Vegas Business and Professional Woman "Woman of the Year".

Clark County Mother of the Year, 1994.

Anti-Defamation League Public Service Award.

Las Vegas Review Journal's Outstanding Women in Clark County.

UNLV Distinguished Alumnus of the Year.
Personal
Shelley is the mother of two sons – Max, a high school junior, and Sam, a middle school student. Shelley enjoys gourmet cooking and is an avid reader of non-fiction and historical fiction.
---
Source: Congressman Shelly Berkley