Rehavam Ze'evi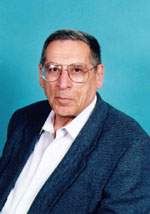 (1926-2001)
---
Rehavam Ze'evi was born in Jerusalem in 1926.
A former career army officer, Ze'evi graduated from the US Army Command and General Staff College. On retirement from the Israel Defense Forces (IDF), he held the rank of Major-General.
As head of the Moledet party, Rehavam Ze'evi has been a Knesset Member since 1988, serving on the Knesset, Foreign Affairs and Defense, Education and Culture, and State Control Committees. In the 1999 elections to the 15th Knesset, he was elected on the joint National Unity ticket.
From February 1991 until Janaury 1992, he served as Minister without Portfolio.
In March 2001, Rehavam Ze'evi was appointed Minister of Tourism.
On October 17, 2001, Ze'evi was assassinated in a Jerusalem hotel.
Ze'evi edited 65 books published by the Defense Ministry and the Eretz-Israel Museum in Tel Aviv.
He is survived by a wife and five children.
---
Source: Israeli Ministry of Foreign Affairs