Tevi Troy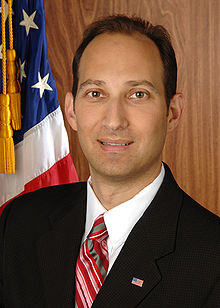 (April 6, 2006)
---
Tevi Troy was the White House liaison to the Jewish community from 2003-2004. Troy was a policy director for former Attorney General John Ashcroft when Ashcroft was a Senator from Missouri. He replaced Adam Goldman, who was the Jewish community liaison from 2001-2003 when President George W. Bush first took office.
Troy is an Orthodox Jew who served the Bush administration as deputy assistant secretary for policy at the Department of Labor. Unlike Goldman, Troy was considered a known entity in Washington Jewish circles, and one who worked well with Jewish organizational leaders. He was replaced by Noam Neusner.
---
Source: Matthew Berger, "White House's new Jewish liaison is conservative, Orthodox — and known, " JTA; (July 2, 2003). Photo from RNC 2004.