Theodore Bikel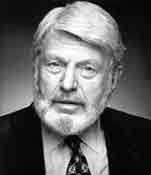 (1924- )
---
Theodore Meir Bikel was born on May 2, 1924, in Vienna, Austria. At the age of fourteen, Bikel fled Austria following the Nazi occupation. Bikel was raised in Palestine, acting at the Hebrew national theatre. In 1945, at the age of 21, he left Palestine to study at the Royal Academy of Dramatic Arts in London.
In 1951, Bikel made his first film debut in The African Queen. In 1954, he immigrated to the United States, becoming a naturalized citizen seven years later. Bikel began appearing in many popular television series including, "The Du Pont Show of the Month." In 1958, Bikel was nominated for an Academy Award for his role as the Southern Sheriff in the film, The Defiant Ones.
Bikel's also became a successful singer, performing concerts around the world. A few of his popular albums include Israeli Folk Songs (1955) and Silent No More (1972).
Eventually, it was Bikel's singing career which directed him to Broadway. In 1959, he performed in the original Broadway cast of The Sound of Music, where he played Captain Georg Von Trapp. Then in 1969, Bikel starred in the original run of Fiddler On the Roof, as Tevye. Since then, Bikel has performed the role of Tevye, more than any other actor.
In 1961, Bikel co-founded with Pete Seeger and George Wein the Newport Folk Festival. "
---
Source: "Theodore Bikel (1924 - )." American Jewish Desk Reference. NY: Random House, 1999. pg. 350.
Theodore Bikel: Wikipedia
Picture from the Theodore Bikel Web Site