Otto Skorzeny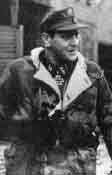 (1908-1975)
---
Along with Sepp Dietrich, Otto Skorzeny is the other legendary Waffen SS commander of World War II.
Otto Skorzeny was born in Vienna, Austria, on June 12, 1908. An engineering student, he fought 15 ritual sabre duels as a young man. In one of these he received a cut to the face that left him with a permanent scar.
Skorzeny joined the Austrian Nazi Party in 1930 and was a strong advocate of union with Germany. After the Anschluss he worked under Ernst Kaltenbrunner. Six feet 4 inches tall, Skorzeny was appointed as one of Hitler's personal bodyguard.
In February 1940, he joined the German Army as an artillery officer and during the Western Offensive he served with the Schutz Staffeinel (SS) and saw action in the Netherlands and France. Promoted to lieutenant he was sent to Yugoslavia for the Balkan campaign.
On July 29, 1943, Adolf Hitler had a meeting with Skorzeny about the possibility of rescuing Benito Mussolini, imprisoned high in the Abruzzi Apennines. Skorzeny agreed and on September 13 he led an airbourne force of commandos by glider to a dangerous landing near the hotel where he was being held. Mussolini was soon freed and Skorzeny flew him to safety.
In November, 1943, Josip Tito was able to establish a government in Bosnia. In February 1944 Adolf Hitler sent Otto Skorzeny to kill Tito. The partisan leader was able to escape but Skorzeny was more successful in October 1944 when he kidnapped Miklos Horthy, who wanted to surrender Hungary to the advancing Red Army.
Skorzeny's next assignment was as leader of 2,000 English-speaking Germans, dressed in American uniforms, who attempted to create havoc behind Allied lines in France.
On July 20, 1944, Skorzeny was called to the scene of the July 20th coup attempt. But by the time he arrived, Major Remer's forces had already seized the Bendlerstrasse and snuffed out the uprising.
Skorzeny was arrested by American troops on May 15, 1945. He was tried for war crimes but was acquitted in September 1947. He was handed over to the German authorities but managed to escape from captivity in July 1948. He went to live in Spain where he received the protection of General Francisco Franco. Otto Skorzeny died in Madrid on July 5, 1975.
---
Source: Joric Center; Spartacus Educational