Shawn Green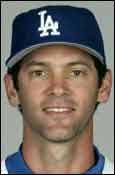 (1972- )
---
The Los Angeles Dodgers are clearly Shawn Green's team. Former teammate Mark Grudzielanek said of the slugging Jewish outfielder, and NL MVP candidate in 2002, "No question, he's definitely our main guy. He's a special individual." Green, an All-Star with the Toronto Blue Jays in 1999 and the Los Angeles Dodgers in 2000 and 2002, is, along with Philadelphia's all-star catcher Mike Lieberthal, the best of the current Jewish big-leaguers, and one of the best players in baseball.
Following back-to-back 40 homer seasons, Green had a difficult season at the plate in 2003 as the Dodgers as a team struggled offensively. With new GM, Paul DePodesta, the Dodgers hope to put the miserable 2003 season behind them and compete in the tough NL West. After off-season surgery to repair his injured right shoulder, Green will play both right field and first base during the 2004 season. Through July 18, the Dodgers are 52-38 and in first place in the NL West. Green has played in 88 games is hitting .259 (86-332) with 11 HR, 46 RBI, and 46 runs scored.
In September 2001, Shawn announced that he would not play on Yom Kippur, because he considers himself "a role model in sports for Jewish kids." This was no idle gesture: the Dodgers were competing for a playoff spot, and Shawn had smashed Duke Snider's single-season Dodger record for home runs (Green finished the season with a career high 49, which was also a Dodger record).
Shawn's boyhood idol was 1980 Cy Young winner Steve Stone. Green feels that being Jewish, "is something different, and I understand that, throughout my career, it'll be something that differentiates me from other players -- always separates me." An impressive five-tool player (hitting, hitting with power, speed, fielding and throwing) who is in his prime, Green is considered one of the top talents in baseball.
A first-team selection to the 1991 USA Today All-USA high school team, Shawn earned a baseball scholarship to Stanford, and was selected by the Toronto Blue Jays as the 16th overall pick of the free-agent draft. After enrolling at Stanford, Green decided to play full-time, and was a September call-up in 1993, going 0-6 in 3 games. That year, he earned a World Series ring, although Shawn did not appear in the Series, as the Blue Jays defeated the Phillies. During this time, Green impressed Arthur Richman, a senior advisor to the New York Yankees, who suggested to Yankee owner George Steinbrenner that he trade for Shawn. Richman said, "He's a Jewish boy, and because of the heavy population in New York, he could attract a lot of fans." Steinbrenner asked, "How could a Jewish boy be named Shawn?" Although the Yankees did seek a trade, it did not work out, and Green remained a Blue Jay.
In 1994, Green spent most of the season with Syracuse in the International League, where he won the league's Rookie of the Year and MVP awards after hitting .344. The following season, Green spent the entire campaign with the Jays, hitting .288 with 15 HR and 54 RBI. It was 1998, however, that was his breakout season: he batted .278 and finished tenth in the league in home runs, with 35, and ninth in total bases (321). He also drove in 100 runs and scored 106, and became only the ninth player in AL history (and the first Jewish one) to hit 30 home runs and steal 30 bases. Shawn said that playing regularly "has made a big difference. Adversity is something I've learned about. Being through a lot of tough times the first few years means now I can work through things. You don't learn much by having things come easy."
During the 1998 season, Green began to extend his arms through each swing to drive the ball, which enabled him to hit for power as well as average. In 1999, he demonstrated that the previous season's success was no fluke, by having another outstanding year. He became a bona fide star, hitting .309 with 42 HR (5th in the league), 123 RBI (6th), 134 runs (2nd), 190 hits (9th), and a .588 slugging percentage (5th). Shawn also finished first in the AL in doubles with 42, and in total bases with 361. He was an All-Star, participated in the home run derby, and won a Gold Glove. When told he was a superstar during the season, Shawn humbly said: "This is the first time I've heard things like that...I have accomplished a lot of things I wanted to, but a lot of it has to do with our team."
Following the season, the Blue Jays wanted to sign Green to a multi-year contract, but he informed the club he wanted to play in a major American city with a large Jewish population. In November 1999, the Jays traded him to the Los Angeles Dodgers, who signed him to a 7 year, $84 million contract, the second highest pact in baseball history at the time.
Both Dodger fans and L.A. Jews were excited at the prospect of having Green; a 75-foot mammoth mural of Shawn adorns the right-center facade of Dodger Stadium, and he accepted a position as spokesman for KOREH, the Los Angeles Jewish Coalition for Literacy, which marshals volunteers to assist elementary students with reading. After meeting legendary Dodger Sandy Koufax, Green understood that he had to take care of baseball first and other commitments second. Although he struggled relative to his outstanding 1999 season with Toronto, Shawn enjoyed a very solid first season with the Dodgers: he hit .269, with four triples, 24 home runs (2 grand slams), 99 RBI, 98 runs scored and 24 stolen bases, becoming only the seventh Dodger ever to steal 20 or more bases and hit 20 or more home runs in the same season. He also led the league with 44 doubles and 90 walks, was the only Dodger to play in all 162 games, and was an All-Star for the second consecutive season.
In 2001, Green had an outstanding season after becoming more comfortable with the pitchers in the NL. Shawn had the finest year of his career, with career-highs in HR, RBI, total bases, and slugging percentage, and developed into one of the best hitters in baseball. During the season, Green became only the fourth left-handed Dodger in history to hit 30 home runs in a season, but the first Los Angeles Dodger, since the previous three southpaws played in Brooklyn, and the first lefty since 1956 (Duke Snider) to record 100 RBI in a season. Although he was solid all year, it was after the All-Star break that Green really emerged; he hit 29 of his 49 HR in the second half of the season, to achieve a both a career-high total, and a new Dodger single-season record (the old franchise record was 43 HR).
It has been Green's consistency, though, that made the greatest contribution to the 2001 Dodgers. With injuries to Eric Karros, Gary Sheffield, Kevin Brown, and others, the Dodgers seemed an unlikely playoff contender. But with Green's bat and leadership, the Dodgers remained in the playoff hunt until the final week of the season. Shawn, the consensus Dodger MVP among his teammates, appeared in more games than any other Dodger (161 of 162 games), and had the longest consecutive-game playing streak in the majors (408 games). That streak came to an end voluntarily on September 26, when Shawn decided not to play on Yom Kippur, a decision supported by the club and applauded by the American Jewish community.
In 2001, Shawn hit a healthy .296 (184-619) with an excellent .598 slugging percentage. He led the club in every major batting category except average, and was among league leaders in HR (49 - 4th), RBI (125 - 9th), hits (184 - 11th), at-bats (619 - 7th), runs (121 - 7th), and slugging (.598 - 9th); he also had a .982 fielding percentage (6 errors) with 8 assists. The Dodgers finished the season with a record of 86-76 for the second year in a row; there is no question that without Green's immense contribution, the club's mark would have been much worse.
During the 2002 season, Shawn hit .285, with 42 home runs and 114 RBI (no one else on the Dodgers hit more than 21 HR or 80 RBI). Green also racked up 166 hits (31 of them doubles) and scored 110 runs. Shawn was, of course, selected to play for the National League in the 2002 All-Star game, the contest that resulted in an infamous 7-7 tie. The Dodgers finished in third place in the NL West with a 92-70 record.
On June 15 of the 2002 season, Green slugged home runs his first two times up against Anaheim, thus becoming the 22nd player in Major League history to hit four home runs in consecutive at-bats over two games. Shawn had already equaled a big-league record at Milwaukee, on May 23, when he became only the 14th player to hit four homers in a single game. That was the same day he set a major league mark with 19 total bases; he went on to break another big league record, with seven home runs in a three-game span. Green's display of power against the Angels brought his total of home runs to 20, by mid-June! It was Shawn's fourth multihomer game of the year and 21st of his career.
The Dodgers finished the 2003 season with a record of 85-77 and in second place in the NL West (15.5 games back of the San Francisco Giants). Shawn played in 160 games and hit .280 (171-611) with 19 home runs and 85 RBI. He led the team in hits, runs batted in, runs scored (84), doubles (49), total bases (281), at-bats, and walks (68). His less-than-usually-prolific 2003 performance is easily understood given a Los Angeles Times story on September 1 that revealed Green had been playing with a right shoulder injury since spring training, and will need surgery in the off-season. Following the season, Green said he would be willing to move to first base "if that's the best thing for the organization."
Shawn Green retired after the 2007 season after he played for 15 year in the Major Leagues.
Shawn Green Statistics (Not including Postseason):
Season

Team

Avg

G

AB

R

H

2B

3B

HR

RBI

BB

SO

OBP

SLG

OPS

1993

Toronto Blue Jays

.000

3

6

0

0

0

0

0

0

0

1

.000

.000

.000

1994

Toronto Blue Jays

.091

14

33

1

3

1

0

0

1

1

8

.118

.121

.239

1995

Toronto Blue Jays

.288

121

379

52

109

31

4

15

54

20

68

.326

.509

.835

1996

Toronto Blue Jays

.280

132

422

52

118

32

3

11

45

33

75

.342

.448

.790

1997

Toronto Blue Jays

.287

135

429

57

123

22

4

16

53

36

99

.340

.469

.809

1998

Toronto Blue Jays

.278

158

630

106

175

33

4

35

100

50

142

.334

.510

.844

1999

Toronto Blue Jays

.309

153

614

134

190

45

0

42

123

66

117

.384

.588

.972

2000

Los Angeles Dodgers

.269

162

610

98

164

44

4

24

99

90

121

.367

.472

.839

2001

Los Angeles Dodgers

.297

161

619

121

184

31

4

49

125

72

107

.372

.598

.970

2002

Los Angeles Dodgers

.285

158

582

110

166

31

1

42

114

93

112

.385

.558

.943

2003

Los Angeles Dodgers

.280

160

611

84

171

49

2

19

85

68

112

.355

.460

.815

2004

Los Angeles Dodgers

.266

157

590

92

157

28

1

28

86

71

114

.352

.459

.811

2005

Arizona Diamondbacks

.286

158

581

87

166

37

4

22

73

62

95

.355

.477

.832

2006

New York Mets/Arizona Diamondbacks

.270

149

530

73

147

31

3

15

66

45

82

.337

.436

.772

2007

New York Mets

.291

130

446

62

130

30

1

10

46

37

62

.352

.430

.782

Total

- -

.283

1951

7082

1129

2003

445

35

328

1070

744

1315

.355

.494

.849
---
Sources: Jews in Sports
ESPN
Photo Courtesy of SI.com Sports Illustrated