Major Walter Schellenberg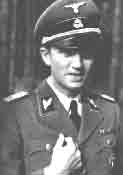 (1910-1952)
---
Employed by Heydrich in SS intelligence effort to unmask all internal resistance and plots against the Nazi regime.
Involved in the Venlo affair which resulted in the SS kidnapping of two British SIS agents in the Dutch border town of Venlo.
Also plotted to kidnap the Duke and Duchess of Windsor in Portugal, but fell severely ill from food-poisoning during the adventure. Later claimed he was poisoned by British intelligence.
---
Source: http://www.joric.com/Conspiracy/Center.htm