Ra'anan Cohen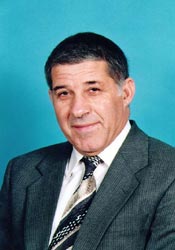 (1941- )
---
Ra'anan Cohen was born in Iraq in 1941 and immigrated to Israel in 1951.

He holds a B.A. degree in History, and an M.A. and Ph.D. in Middle Eastern Studies from Tel Aviv University.

Ra'anan Cohen was a Counsellor in the Hanoar Haoved Vehalomed youth movement and Secretary of the Young Guard of the Labor Party in Bnei Brak (1961-1970). He served as Chairman of the Arab and Druze Branch of the Labour Party (1975-1986) and as Chairman of the Elections Branch of the Labor Party (1986-1992), as well as Chairman, the Movement for Integration of the Discharged Soldier (1990).

Since January 1998, he has served as Secretary-General of the Labor Party.

Cohen has been a Member of Knesset since 1988, serving on the Knesset, the Finance, the Foreign Affairs and Defense, and State Control Committees. In the 13th and 14th Knesset he was Chairman of the Labor parliamentary group.

From August 2000 until March 2001 he served as Minister of Labor and Social Welfare.

In March 2001, Ra'anan Cohen was appointed Minister without Portfolio.

He is married, with four children.
---
Source: Israeli Ministry of Foreign Affairs. Photo used with permission of the Knesset.