Traian Popovici and the Jews of Czernowitz
by Naomi Scheinerman
---
Czernowitz
Today's city of Chernivtsi is located in the Ukraine. Throughout the past several centuries, the city's name has corresponded to its ruling state's nationality and language.
From 1778-1918, the city was apart of the Austro-Hungarian Empire and referred to by its German name Czernowitz, a name many Jews preferred to use through 1944, even as the city's official name changed. With the break up of the Austro-Hungarian Monarchy after World War I, the city came under Romanian rule and Czernowitz became Cernauti. In June of 1940, the Soviet Union occupied the city. When Nazi Germany attacked the Soviet Union in 1941, during Operation Barbossa, it drove out the Red Army. Romanian troops and Nazi soldiers then occupied Cernauti and massacred the local Jewish population. After World War II, Cernauti became controlled by the Soviet Union and referred to by the Russian name Cernoutsi. After the Soviet Union dissolved, the city became apart of Ukraine in 1991 and has been referred to since by the Ukranian name Chernivtsi.
Dr. Traian Popovici
Traian Popovici was born on October 17, 1892 in the village of Rusi Manastioara (Udesti), near the town of Suceava in Austria. His father, Ian Popovici, and grandfather, Andrei Popovici, were priests and deeply patriotic. His mother, Eufrosina Popovici, was born in Bodnarescu family with six other siblings. Traian Popovici's great-grandfather, Mihai Bodnarescu, was a serving deputy in Radauti. Popovici's family were strong nationalists and he grew up hating foreign domination in the Bukovina region. Despite his strong nationalist feelings, Popovici respected the rights of other ethnic groups in Romania.
Traian studied at the superior gymnasium in Suceava from 1903-1911 and then at the Faculty of Law in Cernauti. From 1913-1914, he served as the president of Junimea, a student society in Czernowitz. He graduated the Faculty of Law in 1919, after which he obtained his doctorate.
In 1941, around the time the Germans and Romanians occupied the Cernauti, Popovici was appointed its mayor. A man with high values and strong character, Popovici argued with the governor of Bukovina, the region in which Cernauti was located, about his anti-Semitic policies and fought to alleviate the Jews' degrading situation as much as he could. On October 10, 1941, Romanian dictator and Prime Minister, Ion Antonescu, ordered a ghetto to be created in Cernauti for the Jews, an act which Popovici strongly opposed but inevitably could not prevent. By November of that year, the Cernauti ghetto was an overcrowded cesspool unfit for human living and 28,000 Jews had been deported to camps in Transnistria.
In the fall of 1941, Popovici was granted permission to compile a list of 20,000 Jews to receive exemptions from deportation and authorization to return home. He distributed permits well above the quota he was allotted, including to Jews lacking professional skills or practicable trades, at least temporarily saving them from a horrific fate.
By the spring of 1942, Popovici was removed from his position for granting permits to "unnecessary" Jews and was deported to Bucharest. After his departure, another 5,000 Jews were deported to Transnistria where they perished. Those Jews who stayed in Cernauti survived.
Popovici died in 1946. In 1969, he was added to the Righteous Among the Nations during a ceremony in Israel.
In 1991, Cernauti became a part of Ukraine and henceforth known as Chernivtsi. In June 2000 a street in the Romanian capital of Bucharest was named after "Dr. Traian Popovici."
On April 20, 2009, a plaque was unveiled on the building that had been Popovici's house in Czernowitz, located at 6 Zankovetska, in a ceremony attended by representatives of the Jewish community, Popovici Society (from Romania), the Ministry of Culture of Romania from the Consulate of Romania in Czernowitz, and visitors from Israel and the United States. The plaque contains text in Ukrainian, English, and French that reads: "Here lived Traian Popovici (1892 – 1946). In 1941, as Mayor of Czernowitz, he saved 19,600Jews from deportation to Transnistria and probable death. Remembered in eternal gratitude by the Jews of Czernowitz."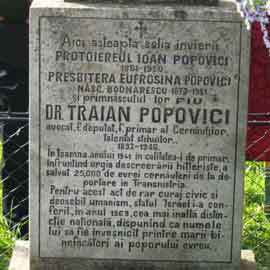 Translation: Dr. Traian Popovici
Lawyer, deputy, former Mayor of Czernowitz, talented poet
1892-1946
In the fall of year 1941, was the Mayor of the city. He confronted the Hitlerist Storm by saving the lives of 25,000 Czernowitz Jews from being deported to Transnistria. For this reason of rare civic courage and for his unusal humaneness, the State of Israel, in the year 1969, honored his memory by enshrining his name among the greatest benefactors for the Jewish people.
---
Source: Czernowitz-L Discussion Group, JewishGen, Yad Vashem
Photos courtesy of the Traian Popovici Memrial Pages.