Norman Mailer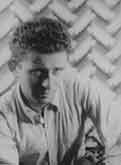 (1923-2007)
---
Norman Kingsley Mailer was born on January 31, 1923, in Long Branch, New Jersey. When Mailer was four, his family moved to Brooklyn, New York, and began attending Harvard University in 1939, where he studied aeronautical engineering. At the university, he became interested in writing and published his first story when he was 18, and is a former member of the Harvard Advocate.
In 1944, Mailer was drafted into the Army during World War II and served in the South Pacific. In 1948, just before enrolling in the Sorbonne in Paris, he wrote a book that made him world-famous: The Naked and the Dead, based on his personal experiences during the war. It was named one of the "100 best novels" by the Modern Library.
In the following years, Mailer continued to work in the field of the novel. In the mid-1950s, he became increasingly known for his countercultural essays, and he was one of the founders of The Village Voice in 1955. In 1957, Mailer published his now infamous essay on hipsterism, "The White Negro." His famous works include:
• Barbary Shore (1951)
• The Deer Park (1955)
• Advertisements for Myself (1959)
• The Presidential Papers (1963)
• An American Dream (1965)
• Why Are We in Vietnam? (1967)
• Armies of the Night (1968, awarded a Pulitzer Prize and National Book Award)
• Miami and the Siege of Chicago (1968)
• Of a Fire on the Moon (1970)
• The Prisoner of Sex (1971)
• Marilyn (1973)
• The Executioner's Song (1979, awarded a Pulitzer Prize)
• Ancient Evenings (1983)
• Harlot's Ghost (1991)
• Oswald's Tale (1995)
As well as his fiction and non-fiction novels, Mailer has produced a play version of The Deer Park, and in the late sixties directed several films, including Maidstone (1970). In 1987, he directed a film version of his novel Tough Guys Don't Dance.
A number of Mailer's works, such as The Armies of the Night, are political. He covered the Republican and Democratic National Conventions in 1960, 1964, 1968, 1972, 1992, and 1996. In 1967, he was arrested for his involvement in anti-Vietnam demonstrations. Two years later, he ran unsuccessfully as an independent for Mayor of New York City.
His biographical subjects have included Pablo Picasso and Lee Harvey Oswald. His 1986 off Broadway play Strawhead, about Marilyn Monroe.
On the morning of November 10, 2007, Mailer died of acute renal failure, one month after undergoing lung surgery at Mount Sinai Hospital in Manhattan, New York.
---
Sources: "Norman Mailer (1923 - )." American Jewish Historical Society, American Jewish Desk Reference, (NY: Random House, 1999). pg. 539-40
Norman Mailer: Wikipedia
Portrait of Norman Mailer, Library of Congress, Prints & Photographs Division, Carl Van Vechten Collection, LC-USZ62-42506