Michael Bay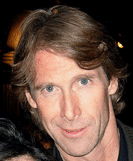 (1965- )
---
Michael Bay is a Jewish American film director and producer best known for high-budget action films with substantial usage of practical special effects.
Michael Benjamin Bay was born February 17, 1965, in Los Angeles, California. He was raised by his adoptive parents Harriet, a bookstore owner/child psychiatrist, and Jim, a CPA. In 1986, he graduated from Wesleyan University with a double major in English and Film. For his graduate work, he attended Art Center College of Design in Pasadena where he also studied film.
Soon after receiving his post-graduate degree, Bay began working at Propaganda Films, directing commercials and music videos. His first feature-length film directing job was 1995's Bad Boys, starring Will Smith and Martin Lawrence. The film grossed $141 million at the box office in the summer of 1995.
Bay's films have grossed over $3 billion worldwide. He is co-founder of commercial production house The Institute for the Development of Enhanced Perceptual Awareness, co-chair and part-owner of the special effects house Digital Domain and co-owns the production house Platinum Dunes.
Filmography
2011 - Transformers: Dark of the Moon
2010 - A Nightmare on Elm Street
2009 - The Unborn
2009 - Friday the 13th
2009 - Horsemen
2009 - Transformers: Revenge of the Fallen
2007 - The Hitcher
2007 - Transformers
2006 - The Texas Chainsaw Massacre: The Beginning
2005 - The Amityville Horror
2005 - The Island
2003 - Bad Boys II
2003 - The Texas Chainsaw Massacre
2001 - Pearl Harbor
2000 - Coyote Ugly
1999 - Mystery Men
1998 - Armageddon
1996 - The Rock
1995 - Bad Boys
---
Source: Wikipedia
Photo: This file is licensed under the Creative Commons Attribution-Share Alike 3.0 Unported license. Author: Romina Espinosa.