Mark Zuckerberg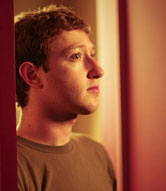 (1984-)
---
Mark Zuckerberg is an American entrepreneur best known for co-founding the social networking site Facebook.
Mark Elliot Zuckerberg was born May 4, 1984 in White Plains, New York to a Jewish family. He started programming when he was in middle school and while in high school at Philips Exeter Academy, he developed a music player named Synapse that used artificial intelligence to learn the user's listening habits. Microsoft and AOL tried to purchase the program and recruit Zuckerberg, but he decided to continue his education at Harvard University, where he joined the Jewish fraternity Alpha Epsilon Pi.
Zuckerberg launched Facebook from his dorm room on February 4, 2004. He enlisted the help of his roommate Dustin Moskovitz when he decided to expand the networking site to schools beyond Harvard's campus. Zuckerberg moved the company to Palo Alto, California in the summer of 2004 and established Facebook's first offices with co-founders and fellow classmates Dustin Moskovitz, Eduardo Saverin and Chris Hughes. He has since not returned to Harvard to complete his undergraduate studies.
In October 2007, Facebook Inc.'s market value was $15 billion. Zuckerberg's personal wealth is $4 billion, he is currently one of the youngest billionaires in the world and was named TIME's 2010 Person of the year. The Social Network, a movie based on Zuckerberg and his fellow Facebook founders, was released in fall 2010. Zuckerberg was played by Jesse Eisenberg.
---
Photo: This file is licensed under the Creative Commons Attribution-Share Alike 2.0 Generic license. Author: Raphaël Labbé.