Ian Kinsler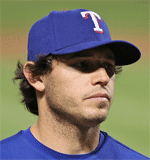 (1982 - )
---
---
Ian Kinsler (born June 22, 1982) is a Jewish American professional baseball player for the Texas Rangers in Major League Baseball.
Kinsler was born in Tucson, Arizona and, though drafted out of high school by his hometown Arizona Diamondbacks, opted to attend university. He jumped around the college scene, playing freshman year at Central Arizona College before transferring to Arizona State and finally to the University of Missouri before his junior season. In 2002, Kinsler was named to the All-Big 12 Conference second team and he played for the Missouri Tigers during the 2002 Fall World Series, leading all hitters with a .619 average.
In the 2003 amateur baseball draft, Kinsler finally accepted being drafted (the Diamondbacks had tried drafting him again in 2001) and the Texas Rangers chose him with in the seventeenth round with the 496th overall selection. By 2004, Kinsler had vaulted himself to the number one spot on Baseball America's Prospect Hot Sheet and he played stunningly in the Rangers minor leauge system.
Kinsler made his major league debut with the Rangers right out of spring training on opening day on April 3, 2006 and recorded his first career hit in his first at bat. In the six season since his start, Kinsler has cemented his place as one of the best second basemen in the major leagues and is considered quite the power hitter with 124 career homers in just over 3000 at-bats.
Ian Kinsler is a two time All-Star (2008,2010) and finished 20th in the American League MVP voting in 2008.
Kinsler admits he is not a religious Jew but concedes that his Jewish heritage is "something I'm very, very proud of."
---
Source: Sports Illustrated, Wikipedia, Baseball Reference, Moment Magazine (Sept/Oct 2011)