King Hassan II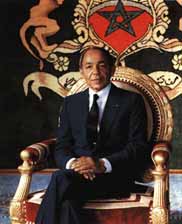 (1929-1999)
---
King Hassan died of a heart attack on July 23, 1999, and was succeeded by his son 36 year old Sidi Mohammed. According to CNN, the new king, Mohammed VI was secretly married July 23, 1999, in keeping with Moroccan and Islamic custom. Mohammed's bride was not named. Moroccan kings must be physically and mentally fit and married. The late king was married under similar circumstances when his father died in 1961. Hassan is remembered fondly by Israelis for his constructive role in the peace process. During the 1970s, a series of secret meetings between Israelis and Egyptians were held under Hassan's auspices and helped pave the way to the historic peace agreement. He continued to be a facilitator in later years, hosting Israeli and Arab leaders, and encouraging them to work toward peace agreements.
---
His Majesty Hassan II was born in Rabat, Morocco on July 9, 1929. He is the 21st Monarch of the Alaouite Dynasty.
From His childhood, He was prepared by his father the late His Majesty Mohammed V for the responsabilities He was later to assume as He was the right hand to the King in Affairs of State.
To this end, He received a modern education at a high school in Rabat where He studied alongside young Moroccans drawn from all the regions and all conditions of life in the country. His studies included Arabic language and Literature, but also the normal curicculum of a modern school; in addition, He was given personal training in Statesmanship by the late King Mohammed V.
After brilliant studies at the University of Bordeaux in France, He obtained the higher University Diploma in Law.
King Hassan II shared His Fathers exile in Madagascar at a time when the French Protectorate transferred the royal family to the Island of Corsica on August 20, 1953, then to Madagascar in Africa in January 1954; during all this period of time he was the political advisor to his father.
On the restoration of jndependence, he played the leading part in the creation of the Armed Forces of which he became The Chief of Staff in 1956.
On July 9, 1957, he was officially invested as Crown Prince And Heir to the Throne by Late His Majesty Mohammed V, and, in 1960, he was appointed Head of the Government.
On the February 26, 1961, He was invested as King of Morocco after the demise of his father.
Our Beloved King is also the father of a family and is particularly attentive to the education of his five children. The oldest is a daughter, H.R.H. Princess Lalla Meryem who was born in Roma on August 21, 1962. Next the Crown Prince H.R.H. Sidi Mohammed, born August 21, 1963, at the Royal Palace in Rabat. Then comes H.R.H. Princess Lalla Asma born in Rabat on September 30, 1965. The next child is another daughter H.R.H. Princess Lalla Hasana born in Rabat on November 21, 1967, and finally there is H.R.H. Prince Moulay Rachid born also in Rabat on June 22, 1970.
---
Source: Kingdom of Morocco