David Gregory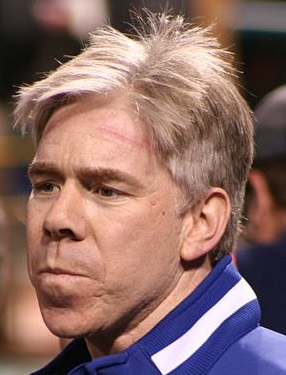 (1970- )
---
David Gregory is an American television journalist and the moderator of NBC News' Meet the Press.
David Michael Gregory was born August 24, 1970 in Los Angeles, California and raised Jewish by his parents Carolyn Surtees, an account manager, and Don Gregory, a film and theatrical producer. He graduated from American University in 1992 with a B.A. in International Studies from the School of International Service.
Gregory began his journalism career at age 18 as a summer reporter for KGUN-TV in Tucson, Arizona. He joined NBC News in 1995 and worked for their flagship West Coast affiliate KCRA-TV in Sacramento and as a correspondent based in Los Angeles and Chicago. He served as White House Correspondent during the presidency of George W. Bush, reporting extensively on the 9-11 attacks as well as the wars in Afghanistan and Iraq. Gregory has also covered three presidential campaigns in 2000, 2004 and 2008. Beyond politics, he has covered nearly every major story for the network: from the O.J. Simpson trials, to the trial of Oklahoma City bomber Timothy McVeigh, to the impeachment of President Clinton, and the death of Pope John Paul II.
Gregory was named moderator of NBC News' Meet the Press on December 7, 2008. He is also a regular contributor for Today and serves as a back-up anchor for the broadcast. Gregory is also a contributor and analyst on msnbc, and lends his voice and reporting to all NBC News broadcasts including coverage of special events.
Gregory lives in
Washington, D.C.
with his wife Beth Wilkinson, an attorney, and their three children.
---
Source: msnbc, Wikipedia