Norm Coleman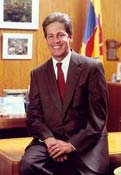 (1949 - )
---
Norm Coleman was born in 1949 in Brooklyn, New York. He received a B.A. from Hofstra University and a J.D. (with high honors) from the University of Iowa. He served in the Minnesota Attorney General's office for 17 years as chief prosecutor and solicitor general of the state of Minnesota.
Coleman has been the mayor of Saint Paul since 1994. He was elected mayor as a conservative Democrat, and in 1996 he joined the Republican Party and was reelected in 1997 as the first Republican mayor of Saint Paul in over 25 years. Through his Mississippi Riverfront Development Initiative, Coleman helped to revitalize downtown St. Paul by creating a new science museum, housing for all income levels, planting over 25,000 new trees along the river, and boosting tourism. Coleman brought together the top 20 CEOs of the region to create the Capital City Partnership, which is committed to promoting, marketing, and developing Saint Paul. He also secured a National Hockey League franchise for St. Paul (the Minnesota Wild).
Coleman was the Republican nominee for governor in Minnesota in 1998. He defeated the Democrat-Farm-Labor candidate, Hubert H. Humphrey III, before narrowly losing to Jesse Ventura by two percent of the vote.
Norm and his wife, Laurie, have two children.
---
Source: U.S. Senate