Herman Barron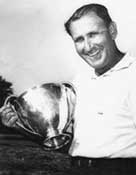 By Ariel Scheib
---
Herman Barron was born on December 23, 1909 in Port Chester, New York. During the 1930s and 40s, Barron became one of the top professional golfers in the PGA. In 1934, he won his first major golf tournament, the Philadelphia Open. In 1946, he finished fourth in the U.S. Open and won the All-American Championship in Chicago, Illinois. As a result of his successes, Barron was granted a spot on America's Ryder Cup Team that defeated England in 1947. Nevertheless, due to failing health, Barron was forced into retirement. He would spend the next 15 years as a PGA teaching pro. In 1963, Barron won his last title at the World Seniors Championship.
During the 1970s, Barron became very involved in developing Israel's only golf course at Caesarea. Herman Barron died in June 1976.
---
Sources: "Herman Barron(1909-1976)." American Jewish Historical Society, American Jewish Desk Reference, (NY: Random House, 1999) pg. 280.
"Herman Barron." International Jewish Sports Hall of Fame
Picture courtesy of: International Jewish Sports Hall of Fame