Hussein Succeeded By His Son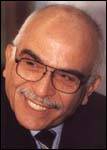 ---
Shortly before succumbing to cancer on February 7, 1999, King Hussein briefly returned to Jordan to announce that his oldest son, 37 year-old Prince Abdullah, would succeed him on the throne. The decision came as a surprise, since Hussein's brother, Prince Hassan, had been designated as his heir for more than three decades. The King is said to have changed his mind in part because of his brother's behavior while Hussein was in the United States, notably acting as though he were about to become king. Other analysts speculate the King wanted to insure that his sons continue the succession of the Hashemite family.
Prince Abdullah bin Hussein was born in Amman on January 30, 1962. He is the son of the King's second wife, Toni Avril Gardiner, an Englishwoman known as Princess Musa. Abdullah attended the British military academy at Sandhurst, England, and Deerfield Academy high school in Illinois. He also studied at Oxford and Georgetown and served briefly in the British army. He is married to a Palestinian, Princess Rania, and have a son, Hussein, and daughter, Iman.
King Hussein had two other sons who are contenders for the throne in the future. Prince Hamzeh, the 19 year-old son of his current wife, American-born Queen Noor, and Prince Ali, the son of Hussein's third wife, Queen Alia. Immediately after being sworn in, King Abdallah named Hamzeh Crown Prince.