U.S.-Israel Cooperation in Space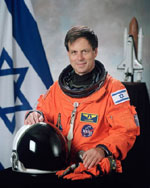 by Shira Schoenberg and Mitchell Bard
---
Almost from its inception in 1983, the Israel Space Agency (ISA) has been working with the U.S. National Aeronautics and Space Administration (NASA). Both the U.S. and Israel have benefited and their cooperative research efforts have blossomed to the point where the first Israeli astronaut will soon fly on an American space shuttle.
As a small country with limited resources, Israel has had limited opportunities for space research. Still, in recent years, Israel has begun to develop powerful rockets and launch satellites. In addition, it has long been involved in space-related research that can be conducted on earth.
ISA was created in 1983, has a total employee/contractor staff of about 15-20 people and an annual budget of approximately $2 million. It is administratively under the Ministry of Science. ISA develops Israeli space policy, coordinates the national space program and international cooperation, supports applied and theoretical studies and helps Israeli industry in developing and marketing space-related products.
In contrast, the U.S. National Aeronautics and Space Administration (NASA) was created approximately 35 years ago and is part of the U.S. aerospace industry, which supports nearly one million jobs. NASA had a 1999 budget of $13.6 billion. The goals of NASA are to explore, use and enable the development of space; advance scientific knowledge; and research, develop, verify and transfer space-related technologies.
NASA and ISA began to work together in 1985, only two years after ISA's inception. Under contract from ISA, the Institute of Petroleum Research and Geophysics in Israel began to operate a NASA-furnished MOBLAS-2 mobile satellite laser ranging (SLR) station at the Bar-Giora Geophysical Satellite Observatory. This SLR, located in the Judean Mountains, tracked a complement of retroreflector satellites and provided data to measure tectonic plate and regional fault motion (data used to study earthquakes), polar motion and earth rotation. The project was renewed in 1990, when NASA's chief of International Planning and Programs said, "NASA considers that major achievements have come from the operation of the Bar-Giora SLR Station by the Israeli Space Agency." The SLR operated for another four years until it was discontinued due to ISA budget considerations.
In 1986, NASA and ISA signed a general agreement to exchange existing scientific and technical information. The U.S. agreed to give Israel information such as NASA aerospace and technical reports. Israel, in turn, would give NASA scientific reports and working papers in areas such as aeronautics, astronautics, chemistry, engineering, mathematics and computer sciences.
Then U.S. Ambassador to Israel William Harrop said in 1992, "Israel needs to know as much about the U.S. space program as possible, and, conversely, the U.S. needs to know as much as possible about Israel's space program."
Since 1992, NASA and the J. Blaustein Institute for Desert Research of the Ben-Gurion University of the Negev have collaborated on the AERONET program, a study of the relation between atmospheric and surface properties in desert transition areas. NASA provides equipment, specifically sunphotometers and radiometers, to Ben-Gurion, which sets them up at Sede-Boder and Bar-Giora. Ben-Gurion scientists then monitor aerosol and surface spectral properties and conducts short experiments that relate these measurements to space observations. AERONET is an international program in which all of the countries involved are constantly sharing data regarding the aerosol measurements. Aerosols are a type of pollution and AERONET is beneficial to scientists worldwide who are trying to develop ways to curb air pollution.
Also in 1992, the space shuttle Endeavor (STS-47) was launched with 180 Oriental hornets. The experiment investigated the effects of near-zero gravity on the hornets, their physical and physiological development and their nest-building instincts. The flight hardware was built by Israel Aircraft Industries, Ltd. (IAI) with the support of ISA, and the principal investigator for the project was from Tel-Aviv University. The ultimate goal of the project was to discover how to prevent astronauts from suffering headaches, nausea, vomiting and weakness during missions. These symptoms are thought to be caused by "disorientation due to lack of gravity perception," according to Prof. Jacob Ishay of Tel Aviv University, and are obstacles to sending people to space stations or on extended trips to other planets. Some scientific data was obtained from the experiment.
On October 2, 1996, NASA and ISA signed an umbrella agreement "for cooperation in the peaceful use of space." The agreement says that NASA and ISA will work closely to develop cooperative programs of mutual interest in the use of space for research and practical applications.
In 1996, NASA and ISA concluded one specific agreement for the provision of a permanent Global Positioning System (GPS) ground station, which would provide a critical reference point for measurements of motion over the Mediterranean and Middle East regions. The station has not been installed, however, due to a lack of agreement of the necessary type of station.
Since 1997, NASA and the Israel Meteorological Service of Hebrew University of Jerusalem, in conjunction with ISA, have cooperated on the Tropical Rainfall Measuring Mission (TRMM) Ground Validation Program. In this program, a satellite measures tropical rain and transmits the data to a ground validation system that ensures that the data is valid. A ground validation site is located at Hebrew University and a researcher from Hebrew University is a TRMM Science Team Member. One finding of this research was that dust from Africa interferes with rainfall in North Africa and the Middle East because the dust gets into clouds.
During 1998, two Israeli microgravity life science experiments were flown on NASA's Columbia space shuttle. The first experiment studied the early development of mice embryos in microgravity. The second investigated the growth of osteoblast cells in a microgravity environment.
In June 1999, NASA and ISA signed an agreement to share information through NASA's Earth Observation System Data Information System (EOSDIS), making Israel the 10th country hooked up to the line. ISA will establish an EOSDIS node, to be maintained by the Inter-University Computation Center (IUCC) at Tel-Aviv University. The node will provide an interface between EOSDIS and ISA's Earth science and environmental observation data and information system. ISA will get information from EOSDIS that can be used for weather prediction, agriculture and meteorology. In exchange, Israeli universities and research institutes will contribute their own Earth observation data. The line will cost the Israeli Science Ministry $30,000 and each university hooked up to it $10,000 a year.
Israel is one of more than 80 countries that currently participate in the Global Learning and Observations to Benefit the Environment (GLOBE) program, an educational venture that is funded by NASA and run out of the White House. The GLOBE program is an effort to link schoolchildren to scientists. The children collect environmental data, which teachers submit via the Internet to a worldwide database. The database is then available for the students to compare their data to that of other schools, and for scientists to use the information for cutting-edge research. Fifty-one Israeli schools are now involved with GLOBE.
In July 1999, U.S. President Bill Clinton and Israeli Prime Minister Ehud Barak agreed to establish a committee made up of representatives of NASA and the ISA for the "development of practical applications in the peaceful use of space."
In October 1999, Ben-Gurion University researchers joined an international project to map the earth sponsored by NASA, the German space agency DARA and the Italian Space Agency ASI. The space shuttle Endeavor is going to scan the earth using a new radar-scanning method called interformetry. Data recorded by the radar will be used to produce topographic maps of areas that have never been mapped before. These include land at the equator, in Africa and in South America. The Israeli team will support the project from the ground by operating calibration targets and radar-retrieval systems in the Negev (Jerusalem Post, Nov. 10, 1999).
NASA administrator Daniel Goldin visited Israel in August 2001 and noted that the Israel Space Agency has one of the smallest budgets of any space agency in the world, but still promotes "some really world-class research" (Jerusalem Post, August 17, 2001).
In July 1998, two Israeli Air Force Pilots, Col. Ilan Ramon (photo shown above) and Lt. Col. Yitzhak May, began training at NASA. Ramon, a former F-16 squadron commander, trained at the Johnson Space Center in Houston and was chosen to be the first Israeli astronaut. May was his backup.
Ramon was a payload specialist, meaning that his training was limited to work on this mission. One of the main projects Ramon was responsible for was called MEIDEX (Mediterranean - Israel Dust Experiment). It called for Ramon to observe and take pictures of atmospheric aerosols in the Mediterranean area using ultraviolet, visible and near infrared array-detector cameras. The cameras take calibrated images of desert and transported pollution aerosols over land and sea, which were to provide scientific information about atmospheric aerosols and the influence of global changes on the climate, as well as complementary data for Total Ozone Mapping Spectrometer (TOMS) and Moderate-Resolution Imaging Spectroradiometer (MODIS) instruments. Researchers from Tel Aviv University were responsible for the scientific aspect of the experiment. The TAU team also worked with a U.S. company, Orbital Sciences Corp., to construct and test special special flight instruments for the project.
[Click here to view a video taken by the astronauts as they passed over Israel]
During the shuttle flight Ramon conducted a number of other experiments as well. One of these was designed to assess the efficacy of probiotic bacteria in strengthening the immune system, digestion, and calcium balance of astronauts in space. Another tested a powdered milk formula designed to ameliorate problems faced by astronauts, such as increased risk of infections, osteoporosis, diarrhea, and kidney stones, associated with working in zero gravity and breathing recycled air. An experiment designed by scientists from the Israel Aerospace Medicine Institute in Jerusalem and the Johnson Space Center in Houston investigated a theory that living organism are in meteors traveling between planets. Israeli students at the Yonatan Netanyahu ORT High School also designed a project for Ramon. This one involved studying the formation of fibers in outer space. (IsraelLine, March 14, 2000).
The seven member crew of STS 107, including Col. Ramon, successfully launched aboard the Space Shuttle Columbia at 10:39 a.m. EST from the Kennedy Space Center in Florida on January 16, 2003, for a 16-day mission. After what NASA officials described as a successful scientific mission, the Columbia was set to return to earth on February 1. Just a few minutes before landing, however, something went horribly wrong and, tragically, the shuttle came apart. The crew was lost.
In January 2010, NASA and the Israel Space Agency signed a joint declaration that made Israel a member of the NASA Center for Moon Research and promoted cooperation between the two agencies. The agreement also recognized the Israel Network for Lunar Science and Exploration (INLSE) and establishes the country as a part of an international effort to study the moon and the solar system. Talks stemming from the January declaration culminated in the August 2010 signing of a formal cooperation pact between NASA and ISA. The memorandum of understanding's main stated intention is to expand the exchange of information and provide inspiration for the next generation of researchers, scientists and engineers. NASA, however, is particularly interested in Israeli expertise in producing lightweight satellites that can be launched from aircraft.
On its final mission, launched in May 2011, the American space shuttle Endeavor included three Israeli experiments to examine the impact of space travel on human health among various studies and tests conducted on board. Material from two of the experiments returned to earth with Endeavor on June 1, 2011, while the third was left on the International Space Station to be retrieved by astronauts aboard the space shuttle Atlantis, on July 20, 2011. The material from the third experiment currently on the space station will gauge the effects of cosmic rays on telomeres, a part of cell chromosomes that regulate the life of the cell, and marks the first time an Israeli experiment has been sent to the International Space Station.
---
Sources: NASA, Jerusalem Post, Flightglobal, Haaretz.