2012 Presidential Candidates' Views on the Middle East
Newt Gingrich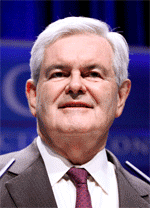 ---
---
The Peace Process with the Palestinians top
"My goal for the Palestinian people would be to live in peace, to live in prosperity, to have the dignity of a state, to have freedom. and they can achieve it any morning they are prepared to say Israel has a right to exist, we give up the right to return, and we recognize that we're going to live side-by-side, now let's work together to create mutual prosperity.

And you could in five years dramatically improve the quality of life of every Palestinian. But the political leadership would never tolerate that. And that's why we're in a continuous state of war where Obama undermines the Israelis"
- Republican Presidential Debate in Florida, January 26, 2012

"People talk about a peace process. 11 missiles were fired in Israel last month, last month. Over 200 missiles fired at Israel this year. You think if we had 11 missiles fired in the United States we -- well, this president anyway would say gee, maybe we could communicate and you would like us more. But I don't think there is -- you know, I think most of us, most Americans would say you know if you are firing missiles at me, that may not be a good gesture. Okay? The United Nations camps that we have helped fund have been training grounds for terrorism."
- Republican Presidential Debate in Sioux City, Iowa, December 15, 2011

"Is what I said [about the Palestinians being an 'invented' people] factually correct? Yes. Is it historically true? Yes.

"Somebody ought to have the courage to tell the truth. These people are terrorists. It's fundamentally time for somebody to have the guts to stand up and say, 'Enough lying about the Middle East.'"
- Republican Presidential Debate in Des Moines, Iowa, December 10, 2011

"When the president keeps talking about a peace process while Hamas keeps firing missiles into Israel, if we had a country next to us [the U.S.] firing missiles, how eager would we be to sit down and negotiate?"
- Iowa Veterans Presidential Candidate Forum, December 10, 2011

INTERVIEW QUESTION: On Israel, do you consider yourself a Zionist?
GINGRICH: "Well, I believe that the Jewish people have a right to have a state and I believe the committments that were made at the time. Remember, there was no Palestine as a state - (it was) part of the Ottoman Empire. I think that we've had an invented Palestinian people who are in fact Arabs, and who are historically part of the Arab community. And they had a chance to go many places and for a variety of political reasons, we have sustained this war against Israel now, since the 1940s - I mean, it's tragic."
- The Jewish Channel interview, December 9, 2011
Iranian Threat top
"We are not going to tolerate an Iranian nuclear weapon. This is the biggest national security threat of the next ten years."
-Republican Presidential Debate in New Hampshire, December 12, 2011

QUESTION: Mr. Speaker, would you, if you were president of the United States, bomb Iran's nuclear facilities to prevent it from becoming a nuclear power?
GINGRICH: "Only as a last recourse and only as a step towards replacing the regime. No bombing campaign which leaves the regime in charge is going to accomplish very much in the long run. You have to seriously talk about regime replacement, not just attacking them.

If my choice was to collaborate with the Israelis on a conventional campaign or force them to use their nuclear weapons, it will be an extraordinarily dangerous world if out of a sense of being abandoned they went nuclear and used multiple nuclear weapons in Iran. That would be a future none of us would want to live through."

"The fact is we ought to have a massive all-sources energy program in the United States designed to, once again, create a surplus of energy here, so we could say to the Europeans pretty cheerfully, that all the various sources of oil we have in the United States, we could literally replace the Iranian oil. Now that's how we won World War II.

...you know, we all get sucked into these tactical discussions. We need a strategy of defeating and replacing the current Iranian regime with minimum use of force. We need a strategy of being honest about radical Islam and designing a strategy to defeat it wherever it happens to exist..."

QUESTION: But sanctions on the Iranian Central Bank now, is that a good idea or a bad idea?
GINGRICH: "I think it's a good idea if you're serious about stopping them having nuclear -- I mean, I think replacing the regime before they get a nuclear weapon without a war beats replacing the regime with war, which beats allowing them to have a nuclear weapon. Those are your three choices."
- Republican Presidential Debate in Washington, D.C., November 22, 2011

Gingrich recognizes that the Israeli people are facing the threat of a nuclear Holocaust. When Gingrich addressed the Institute for Policy and Strategy at IDC in Herzliya in 2007, he said that "Israel is in the greatest danger it has been since 1967. Prior to '67, many wondered if Israel would survive. After '67, Israel seemed militarily dominant, despite the '73 war. I would say we are back to a question of survival."

Speaking about the threat not only to Israel but also to the U.S., "our enemies are fully as determined as Nazi Germany, and more determined than the Soviets."
- Ynet, January 23, 2007.
"There were 11 rockets fired into Israel in November. Now, imagine in Duvall County that 11 rockets hit from your neighbor. How many of you would be for a peace process and how many of you would say, you know, that looks like an act of war.

You have leadership unequivocally, and Governor Romney is exactly right, the leadership of Hamas says, not a single Jew will remain. We aren't having a peace negotiation then. This is war by another form."
- Republican Presidential Debate in Florida, January 26, 2012

Gingrich supports Israel wholeheartedly in its right to maintain a blockade of Gaza in defense against Hamas, and maintains there is no humanitarian crisis in Gaza but that the whole scene is an effort to endanger Israel's security. He worries that the U.S. is on a collision path with Israel by not supporting her enough and especially that a second Holocaust in the guise of radical Islam is approaching.
- 2012 Presidential Candidates, 2011.
The UN top
"We need to radically reduce our reliance on UN and change role in it. There are missiles being fired into Israel. Most Americans say if you are firing missiles at me, this is not a good gesture. UN camps are training grounds for terrorism. The UN funds textbooks that promote hatred of Israel. The UN bureaucracy is corrupt. It should be fixed or we should reduce what we are paying."
- Republican Presidential Debate in Iowa, December 15, 2011
US-Israel Relationship top
"On the first day that I'm president, if I do become president, I will sign an executive order directing the State Department to move the embassy from Tel Aviv to Jerusalem to send the signal we're with Israel."
- Republican Presidential Debate in Florida, January 26, 2012
Foreign Policy Advisors top
In addition to his personal views, Newt Gingrich must draw upon a wide array of expertise to create a coherent and capable foreign policy, and the use of special advisory teams are an important asset for this purpose. In order to truly evaluate his agenda, it is therefore crucial to take these teams of foreign policy and national security advisers into account. Below is a list of Gingrich's foreign policy team for issues affecting Israel and the Middle East.

Ken de Graffenreid:
Professor of Intelligence Studies at The Institute of World Politics; Former U.S. naval aviator and intelligence officer; Senior Director of Intelligence
Programs on the National Security Council for President Reagan from 1981 to 1987; Deputy under-secretary of Defense for policy (2000-2004);
deputy national counterintelligence executive at the Central Intelligence Agency (2004-2005)

Norman Bailey:
Adjunct professor of economic statecraft at the Institute of World Politics in Washington; President of the Institute for Global Economic Growth;
special assistant to the president for National Security Affairs and senior director of International Economic Affairs on the staff of the National
Security Council under President Reagan

Ilan Berman:
Vice President of the American Foreign Policy Council; Expert on regional security in the Middle East, Central Asia, and the Russian Federation, he
has consulted for both the U.S. Central Intelligence Agency and the U.S. Department of Defense

John Fonte:
Senior fellow and Director of the Center for American Common Culture at Hudson Institute; Former visiting scholar at the American Enterprise
Institute; Former senior researcher at the U.S. Department of Education

Robert McFarlane:
Former National Security Adviser for President Ronald Reagan; former Military adviser to Henry Kissinger and Brent Scowcroft; graduate of the
US NavalAcademy and served in the US Marine Corps.

Herman Pirchner:
Founding president of American Foreign Policy Council; Staffer to Sen. Charles Grassley (R-IA) and Sen. Roger Jepsen (R-IA)

Tina Ramirez:
Director of international and government relations for the Becket Fund; former senior foreign policy advisor and expert on international religious
freedom, and helped establish and direct the Congressional International Religious Freedom Caucus.

Bill Schneider:
President of International Planning Services, Inc.; Adjunct fellow of the Hudson Institute; former chairman of the Defense Science Board (2001
2009);former Under Secretary of State for President Ronald Reagan (1982-1986)

Kiron Skinner:
W. Glenn Campbell Research Fellow at the Hoover Institution; associate professor of international relations and politics at Carnegie Mellon
University and director of the university's Center for International Relations and Politics.

Abraham Wagner:
Professor of national security and intelligence at Columbia University's School of International and Public Affairs, and is also a senior research fellow at the Arnold A. Saltzman Institute of War and Peace Studies.

R. James Woolsey:
Chair of the Board of the Foundation for Defense of Democracies; Director of the CIA (1993-1995); Ambassador to the Negotiation on
Conventional Armed Forces in Europe (1989-1991); Under Secretary of the Navy (1977-1979); and General Counsel to the U.S. Senate
Committee on Armed Services (1970-1973)

David Wurmser:
Executive and founding member of the Delphi Global Analysis Group, LLC, where he provides analysis on the geopolitics and economics of Israel
and the Middle East; senior advisor to Under Secretary of State John Bolton at the State Department until 2003, then rose to senior advisor to Vice
President Richard Cheney on Middle East, proliferation and strategic affairs.

Stephen Yates:
President of DC International Advisory; deputy assistant to the vice president for national security affairs from 2001 through 2005
---
Photo Credit: Gage Skidmore