2012 Presidential Candidates' Views on the Middle East
Herman Cain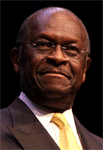 ---
---
Committment to Israel top
At the first New Hampshire Republican presidential debate at St. Anselm College in Manchester, N.H., Monday, June 13, 2011 Cain told Republican officials that if he were president, "the world would know that anyone who 'messes with Israel messes with the United States,'" he said.
US-Israel Relationship top
"If we clarify who our friends are, clarify who our enemies are, and stop giving money to our enemies, then we ought to continue to give money to our friends, like Israel."
- Republican Presidential Debate in Nevada, October 18, 2011
Iranian Threat top
QUESTION: Is Israel attacked Iran to prevent Tehran from getting nuclear weapons, would you help Israel launch the attack or support it otherwise?
CAIN: "I would first make sure that they had a credible plan for success, clarity of mission and clarity of success.
"Remember, when you talk about attacking Iran, it is a very mountainous region. The latest reports say that there may be 40 different locations, and I would want to make sure that we had a good idea from intelligence sources where these are located.
"And if Israel had a credible plan that it appeared as if they could succeed, I would support Israel, yes. And in some instances, depending upon how strong the plan is, we would join with Israel for that, if it was clear what the mission was and it was clear what the definition of victory was."
- Republican Presidential Debate in Washington, D.C., November 22, 2011
"The first thing that I would do is to assist the opposition movement in Iran ... Our enemies are not the people of Iran, it's the regime ... Secondly, we need to put economic pressure on Iran, by way of our own energy independence strategy ... Iran uses oil not only as a means of currency, but they use it as a weapon. One of the reasons that they are able to afford that nuclear weapons program, is because of oil ... The only we can stop them [from acquiring nuclear weapons] is through economic means."
- Republican Presidential Debate in South Carolina, November 13, 2011
Later in the summer of 2011, Cain stressed that he would not allow Iran to attack Israel and went further in saying that he would not hesitate to attack Iran if it attacked Israel first.
- The Washington Times, June 17, 2011.

The Palestinians' Unilateral Declaration of Independence top
QUESTION: Mr. Cain, this week, the Palestinian Authority brought their bid for statehood to the United Nations. How would you respond to the unilateral declaration of a Palestinian state?
"It starts with an extension of the Reagan philosophy of peace through strength. My philosophy would extend that to peace through strength and clarity. This administration has not made it clear how it stands with Israel. When I was in Israel last month, I met with the deputy prime minister. And he made it shockingly, chillingly clear that, given everything that's going on, number one, Israel will defend itself, with all of the tensions going on in the Middle East. And he also made it real clear that he wasn't sure how this administration stood when it came to Israel. I made it clear, which -- and I would also make it clear to all of -- our -- the other people in the world, that if you mess with Israel, you're messing with the United States of America. We will stand solidly behind Israel."
- Republican Presidential debate in Florida, September 22, 2011
---
Photo Source: Gage Skidmore