Women of the IDF:


Women in Special Forces
---
---
First female airborne paramedics in the elite Unit-669
Over the years there have been many myths and misconceptions regarding the combat status of woman in the Israeli Defense Forces, most of them incorrect.
The combat history of female soldiers in the IDF can be dividend into three parts:
1948: Women on Full Combat Status (War of Independence)
1948-Late 1990's: No Women Allowed in Combat
Late 1990's-Present: Majority of Combat Positions, including Pilot and Special Forces, Open to Women
As an army created during war, when it was first formed in 1948 the IDF was forced to use as soldiers whatever personnel it had, regardless of gender.As Israel's first Prime Minister, David Ben-Gurion said:
"Since you rightly believe that the security of the State must be pursued night and day, I want you to know that that security will not exist if our nation's women do not know how to fight. We are few – and our enemies are many. If, heaven forbid, a war falls upon us, the men will go to fight the enemy, and if, heaven forbid, the women who are protecting their children at home do not know how to use a weapon – what will be their end if the enemy falls upon them?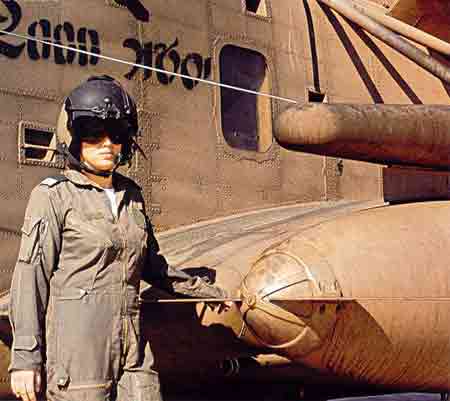 First female IAF CH53 airborne mechanic
Follwing the War of Independence and lasting until the late 1990's - except for a short attempt in the 1950's to accept women into flight school - no women were allowed in IDF combat positions. However, women did take over almost all field instructing positions in the IDF.
That all started to change in 1994 when the High Court of Justice, under appeal by a female immigrant from South Africa, ruled that some combat roles should be open to female soldiers. Three years later, in 1997, Alice Miller filed a an appeal to the Israeli Supreme Court for acceptance into IDF's highly elite Air Force flight school. Miller won the lawsuit and the IDF soon began accepting women as flight candidates. In 2000, the Equality amendment to the Military Service law stated that the right of women to serve in any role in the IDF is equal to the right of men.
In 2001, the Air Force graduated its first ever female combat fighter pilot, Lt. Roni Zuckerman. Four years later, in 2005, a second female passed the intensive fighter pilot course and two other female soldiers graduated to serve as transport pilots. During the Second Lebanon War in 2006, female helicopter pilots took part in field missions alongside their male counterparts. In December 2011, five female pilots completed flight school at the 163rd graduation ceremony of the Israeli Air Force Flight Academy.
During the late-1990's and early-2000's, additional Supreme Court appeals as well as political pressure caused the IDF to open more combat positions to women. Today female soldiers can be found on combat status in the following positions, involving male and female or female-only fighting formations:
The first female IAF UH60 Blackhawk airborne mechanic

Artillery
Anti Aircraft corps
Atomic Biological Chemical (ABC) unit
Combat Engineering corps
Light infantry (Karakal)
Military Police (Sachlav)
Border Police (Magav)
Special Israeli Police Patrol Unit (Yasam)
Air Force Pilots
Unit 869
There are also female operators in various roles in Special Forces units:
YAMAG
Unit 669
YABAN
Oket'z
As Israel's first Female Major General, Orna Barbivai, said: "Wherever women are present - [the IDF's] operational effectiveness rises."
---
Source: Israeli Special Forces