Castel - Har Me'oz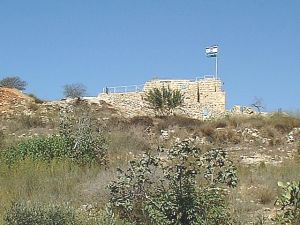 ---
Mount Castel, from the Latin "fortress" (castilium), is located on the road from Tel Aviv to Jerusalem, about 10km before Jerusalem and 2km from Kibbutz Kiryat Anavim. It is situated 790 meters above sea level. During the Roman period, the mountain was used as a fortress. A second fortress was later built on top of the ruins of this Roman fortress during the Crusades. Before the establishment of the state of Israel, an Arab village lay on top of this mountain, overlooking the main road to Jerusalem.
In the fight for Israel's Independence, the Hagana knew that the Castel was vital to securing the road to Jerusalem. In March 1948 the war intensified in the Castel-Zuba region. Despite high Jewish casualty counts, the mountain remained in Arab hands. Hagana forces held onto the Zuba quarries south of the mountain, and the Motza and Arza at the eastern foot of the mountain. On April 1, 1948, the Arabs attacked the quarry. On the night of April 2, the Palmach advanced and captured the Castel. Control of the mountain was handed over to the "Moria" battalion and Arab counterattacks began. After three more days of fighting, the small Jewish force was weakened. On the night of April 5, the Arabs re-captured the entire Castel. An intense effort was then launched by a platoon put together from the "Etzioni" brigade, barely able to reinforce and replace those fallen and wounded.
The "Jihad" then responded with the largest "Phazaa" (call to arms) in the 1948 war. On April 6, angry armed villagers began attacking the Castel. The next day Abd Elkadir El Husseini arrived at the Castel to take command of the battle. He launched a heavy attack and advanced toward the "Etzioni" command post. The Arabs were discovered and Abd Elkadir was killed by a Jewish sergeant in a firefight. The next morning (April 8), the Arabs fired from three directions and launched a massive assault to free Abd Elkadir, who they thought had been captured. A second Palmach platoon set out to defend the Jewish position. Unable to hold onto the Castel, the Palmach covered the "Etzioni" retreat and then also retreated.
The Arabs were victorious but did not exploit their success. Most left for Jerusalem to attend Abd Elkadir's funeral. On the morning of April 9 a Palmach company captured the Castel. Today the Castel is a national historic site, protected by the National Parks Authority and the Committee for Commemoration of the Castel Battles. There is a model of the battle and signs explaining the events at the site.
---
Source: The Jewish Agency For Israel (JAFI) (Photo Courtesy)