Capernaum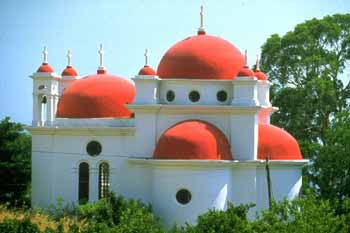 ---
"When Jesus heard that John had been put in prison, he returned to Galilee. Leaving Nazareth, he went and lived in Capernaum, which was by the lake in the area of Zebulun and Napthali." (Matthew 4:12-13)
The site of the ancient fishing village of Capernaum (Heb. Kfar Nahum, the Village of Nahum) is located on the northwestern shore of Lake Kinneret (the Sea of Galilee), 2.5 kilometers northeast of Tabgha, and some 15 kilometers north of Tiberias.
The town is first mentioned in the New Testament, where it figures prominently in the Gospel narratives as the place where Jesus lived during much of his ministry in the Galilee. It was here, according to the New Testament, that he "cured many who were suffering from diseases," and also "cast out many devils" in those possessed.
Several of the Apostles - Simon (called Peter) and his brother Andrew, James son of Zebedee and his brother John - lived in the village, and Matthew (Levi son of Alphaeus) was a tax collector there.
Archeological evidence indicates that the town was established at the beginning of the Hasmonean Dynasty (the earliest coins found at the site date from the 2nd century BCE). The town, near the border of the province of Galilee, was on a branch of the Via Maris trade route. At the time of the Gospel narrative, Capernaum included a customs post and a small Roman garrison commanded by a centurion.
The town did not participate in either of the two major Jewish revolts against Rome, and Jewish writings of the period identify Kfar Nahum as one of four localities which included minim (Heb., sectarians) among its residents. This may be a reference to one of the small Judaeo-Christian groups excluded at the end of the 1st century from participation in synagogue services, when the "blessing concerning the minim" was added to the "Eighteen Benedictions" of daily prayer.
The village, badly damaged by earthquake in 746, was rebuilt a short distance to the northeast (in the area of the present Greek Orthodox Church), but little is known of its subsequent history, decline and eventual abandonment sometime in the 11th century. Despite the importance of Capernaum in the life of Jesus, there is no indication of any construction during the Crusader period. A 13th-century traveler found only the huts of seven poor fishermen.
The site was "re-discovered" in 1838 by the American biblical geographer Dr. Edward Robinson. In 1866, the British explorer Captain Charles W. Wilson identified the ruins of the synagogue, and in 1894, a portion of the ancient site was purchased by the Franciscan Custody of the Holy Land. The principal Franciscan excavations took place in 1968-84. (Excavations at the adjoining Greek Orthodox site were carried out in 1978-82.)
---
Source: Israeli Foreign Ministry