Synagogues of the World
South Africa
---
Arthur's Road Orthodox Hebrew Congregation, Cape Town

Arthur's Road Orthodox Hebrew Congregation, Cape Town
Arthur's Road Orthodox Hebrew Congregation, Cape Town

Arthur's Road Orthodox Hebrew Congregation, Cape Town
Old Synagogue, Cape Town, the oldest (1862) synagogue in South Africa

The Great Synagogue, Cape Town

Spires of the Great Synagogue in the shadows of the Table Mountain, Cape Town

The Great Synagogue, Cape Town
The Great Synagogue, Cape Town

Green and Sea Point Hebrew Congregation, Cape Town

Green and Sea Point Hebrew Congregation, Cape Town
Chabad Synagogue, Cape Town

Chabad Synagogue, Cape Town - Note the unusual vaulted brick ceiling

Sephardic Hebrew Congregation, Cape Town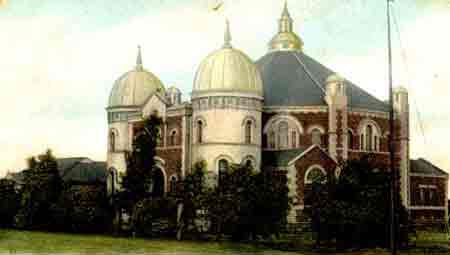 Synagogue, Kimberley
Paul Kruger Street Synagogue (consecrated in 1898) was the first in Pretoria.
In 1952, the synagogue was expropriated by the government for the purpose of erecting a new Supreme Court.
To learn about the history of the South African Jewish community, click here.
---
Sources: Photos copyright HaChayim HaYehudim Jewish Photo Library (© Jono David Media). Reprinted with permission. All rights reserved.
Postcards courtesy of Judaica Philatelic Resources