Synagogues of the World
Italy
---

Synagogue of Rome, Longotevere Cenci

Synagogue of Rome, Longotevere Cenci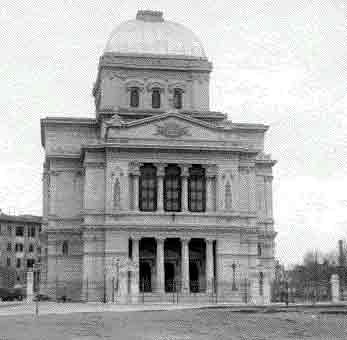 Tempio Israelitico in Rome. This synagogue, completed in 1904, was designed by the Roman architects, Costa & Armanni in a style that mixed Roman, Greek, Assryo-Babylonian, and Egyptian elements.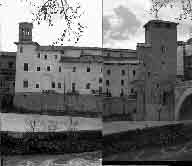 Tempio dei Giovani is located in a 13th century building in the middle of the Tiber river, next to the traditional Jewish neighborhood, in the historical center of Rome. TdG is on the top floor of the white building.
Interior of Tempio dei Giovani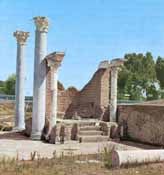 Remains of a 4th-century synagogue in Ostia Antica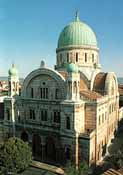 The Synagogue of Florence

Interior of the Synagogue of Florence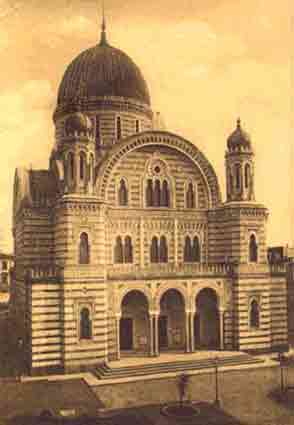 The Synagogue of Florence in 1924
Work began in 1874 and the synagogue was dedicated in 1882.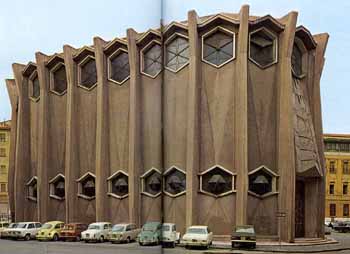 The Livorno (Leghorn) Synagogue (1962)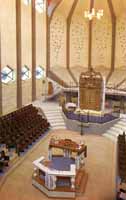 The Livorno (Leghorn) Synagogue Interior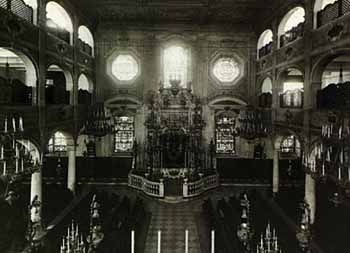 Antica Sinagoga, 1603 [destroyed], Livorno (Leghorn)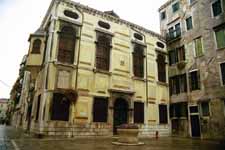 Spanish Synagogue, Venice constructed in 1550 and restored in 1635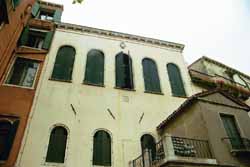 Levantine Synagogue, Venice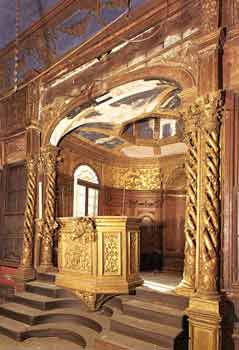 Canton Synagogue, Venice (1531)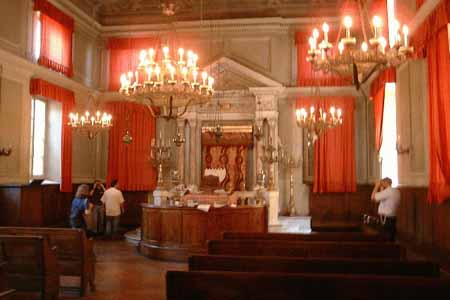 Pisa Synagogue (1595, remodeled in 1785 and 1863)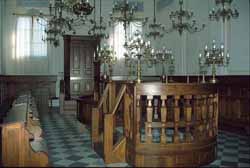 Pitigliano Synagogue (1598)

Siena Synagogue (1786)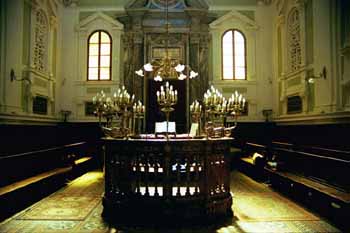 Siena Synagogue Interior (1786)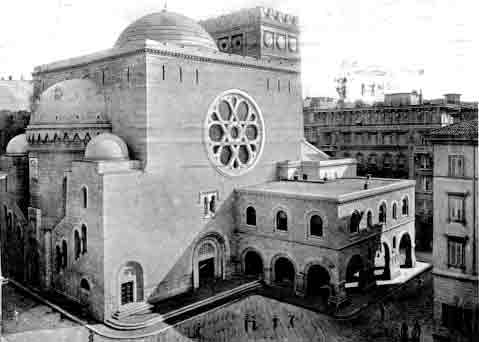 In 1912, the Tempio Israelitico replaced four 18th century predecessors in Trieste.
The synagogue was designed by two Christian architects, Ruggiero and Arduino Berlam
Postcard from 1905 showing Tempio Israelitico in Turin. It was designed by Enrico Petiti and built in 1880-84. The synagogue was destroyed during World War II, but rebuilt after the war.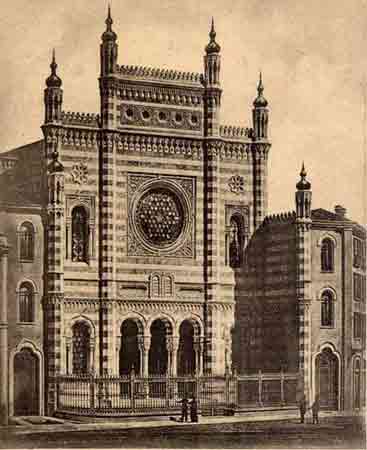 A 1909 postcard of the Great Synagogue of Vercelli, designed in the Moorish style by G. Locarni, opened in 1878.
To learn about the history of the Italian Jewish community, click here.
---
Sources: Antica Synagogue photos Copyright © Jewish Italy
Tempio dei Giovani photos courtesy of the synagogue
Modern synagogue interior and exterior Copyright © Jews and Synagogues. EdizioniStorti Venezia. 1999
Siena photos Copyright © Traveleurope Italy
Photos courtesy of Eytan Kahn from Pitigliano
Pisa synagogue interior Copyright © Gabriel Cwilich
Inside of Canton Synagogue copyright © Jews and Synagogues. EdizioniStorti Venezia. 1999, other Venice photos copyright © Mitchell Bard.
Ostia synagogue, copyright © Jews and Synagogues. EdizioniStorti Venezia. 1999, other Roman photos copyright © Mitchell Bard.
Florence Synagogue Copyright © Jewish Italy.
Postcards of synaoguges in Trieste, Turin, Vercelli, Rome, and Florence from Judaica Philatelic Resources