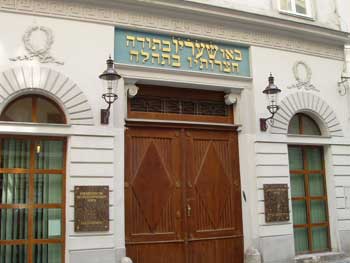 The Vienna Synagogue built in 1824-1826 and designed by Josef Kornhausel.
It was the only synagogue in Vienna to survive the Nazis.
Interior of the Vienna Synagogue
The small prayer hall, built in 1871, is visible on
the left, with the large synagogue on the right.

Formerly the men's prayer-room, shut down by the Nazis

Synagogue: external view

Former women's gallery, with an intermediate
ceiling inserted by the Nazis.

The Baden Synagogue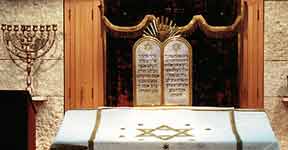 The Innsbruck Synagogue in Tyrol was rebuilt
in 1993 after it was destroyed by the Nazis in 1938.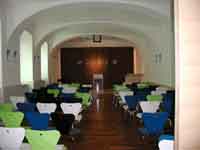 Or Chadasch, Vienna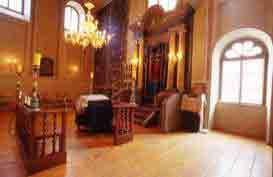 Former Private Synagogue of Samson Wertheimer,
at the Osterreichisches Jüdisches Museum, Eisenstadt
Seitenstettengasse Synagogue, Vienna