The Hobart Synagogue
---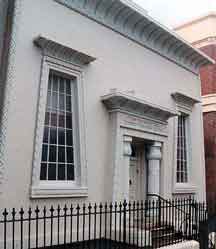 ---
Its foundation stone laid on August 9, 1843, the Hobart Synagogue in Hobart, Tasmania, Australia is the oldest synagogue in Australia. It was designed by James Alexander Thomson, a Scotsman originally sent to Australia in 1825 for attempted jewel robbery, in the Egyptian Revival Style. The Egyptian style represented antiquity and the synagogue's design was meant to indicate Judaism's ancient roots.
The synagogue's entrance is decorated with two carved pillars supporting an architrave and cornice, upon which appears the Hebrew inscription from the Book of Exodus: "Wherever my name is mentioned there will I come and bless you." The synagogue's Ark is enclosed by a light and elegant bronzed railing and is approached by circular steps. On either side of the doors of the Ark, which are richly carved and gilded, are placed two elaborately carved pillars, supporting an entablature and cornice of cedar, which is also gilded.
The Hobart Synagogue Ark contains multiple Torah scrolls thought to be as old as the synagogue. One of these scrolls was donated by Lady Rachel Ezra of Calcutta, India, though it is probably of Syrian origin, in 1951 and is kept in an ornamental silver casing in the Sephardi style. On display is a Memorial Sefer Torah from Czechoslovakia that is one of the 1,564 scrolls seized from desecrated synagogues by the Nazis.
The synagogue is currently shared by an Orthodox and a Progressive group and, since 1956, there has not been permanent rabbi in residence so the congregation depends on members who have received traditional Jewish instruction for leadership. The Hobart Synagogue is the oldest synagogue in the southern hemisphere still in regular use.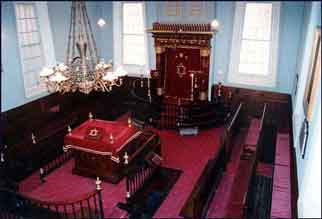 Contact Information:
Hobart Synagogue
59 Argyle Street
Hobart TAS 7000, AUSTRALIA
Tel: 03 6234 4720 (Aus)
61 3 6234 4720 (Intl)
Website: http://www.hobartsynagogue.org/
E-mail: Shule@hobart.org
---
Source: Center for Tasmanian Historical Studies, Hobart Synagogue
Photos courtesy of Hobart Synagogue