Middle East Religions
---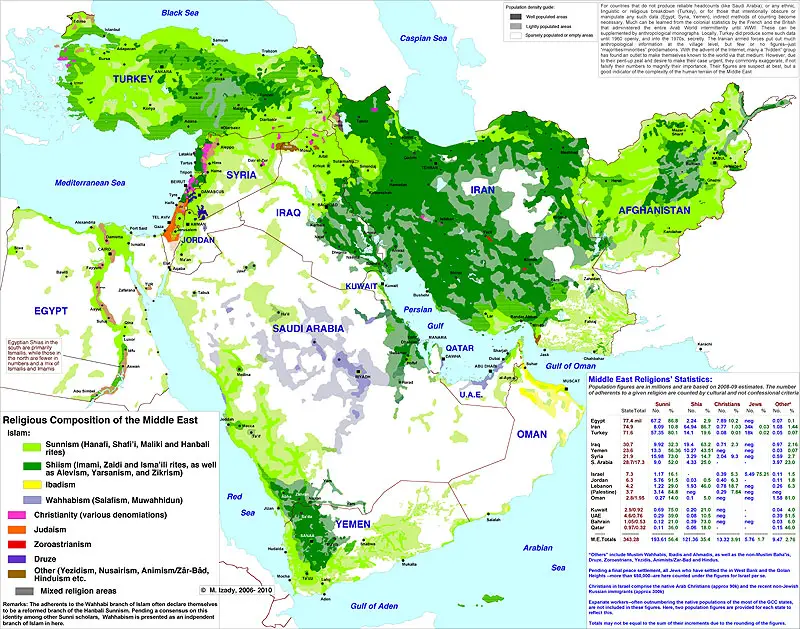 Middle East Religions' Statistics:

*
Sunni
Shia
Christians
Jews
Other**
State Total
No.
%
No.
%
No.
%
No.
%
No.
%

Egypt

77.4
67.2
86.8
2.24
2.9
7.89
10.2
neg
0.07
0.1

Iran

74.9
8.09
10.8
64.94
86.7
0.77
1.03
34k
0.03
1.08
1.44

Turkey

71.6
57.35
80.1
14.1
19.6
0.08
0.01
18k
0.02
0.05
0.07

Iraq

30.7
9.92
32.3
19.4
63.2
0.71
2.3
neg
0.97
2.16

Yemen

23.6
13.3
56.36
10.27
43.51
neg
neg
0.03
0.07

Syria

21.9
15.98
73.0
3.29
14.7
2.04
9.3
neg
0.59
2.7

Saudi Arabia

28.7/17.3
9.0
52.0
4.33
25.0
-
-
3.97
23.0

Israel

7.3
1.17
16.1
-
0.39
5.3
5.49
75.21
0.11
1.5

Jordan

6.3
5.76
91.5
0.03
0.5
0.40
6.3
-
0.11
1.8

Lebanon

4.2
1.22
29.0
1.93
46.0
0.78
18.7
neg
0.26
6.3

Palestinian Territories

3.7
3.14
84.8
neg
0.29
7.84
neg
neg

Oman

2.8/1.95
0.27
14.0
0.1
5.0
neg
neg
1.58
81.0

Kuwait

2.9/0.92
0.69
75.0
0.20
21.0
neg
-
0.04
4.0

UAE

4.6/0.76
0.29
39.0
0.08
10.5
neg
-
0.39
51.5

Bahrain

1.05/0.53
0.12
21.0
0.39
73.0
neg
neg
0.03
6.0

Qatar

0.97/0.32

0.11

36.0
0.06
18.0
-
-
0.15
46.0

Middle East Totals

343.28
193.61
56.4
121.36
35.4
13.32
3.91
5.76
1.7
9.47
2.76
*Population figures are in millions and are based on 2008-09 estimates. The number of adherents to a given religion are counted by cultural and not confessional material.
** "Others" include Muslim Wahhabis, Ibadis and Ahmadis, as well as the non-Muslim Baha'is, Druze, Zoroastrians, Yezidis, Animists/Zar-Bad and Hindus.
Pending a final peace settlement, all Jews who have settled in the West Bank and the Golan Heights--more than 650,000--and here counted under the figures for Israel per se.
Christians in Israel comprise the native Arab Christians (approx 90k) and the recent non-Jewish Russian immigrants (approx 300k).
Expatriate workers--often outnumbering the native populations of most of the GCC states, are not included in these figures. Here, two population figures are provided for each state to reflect this.
Totals may not be equal to the sum of their increments due to the rounding of the figures.
---
Source: The Gulf/2000 Project at the School of International and Public Affairs of Columbia University